Dynaudio founder Wilfried Ehrenholz and Mark Thorup (Dynaudio employee number four) are the men behind some of the most iconic speakers of the past 40 years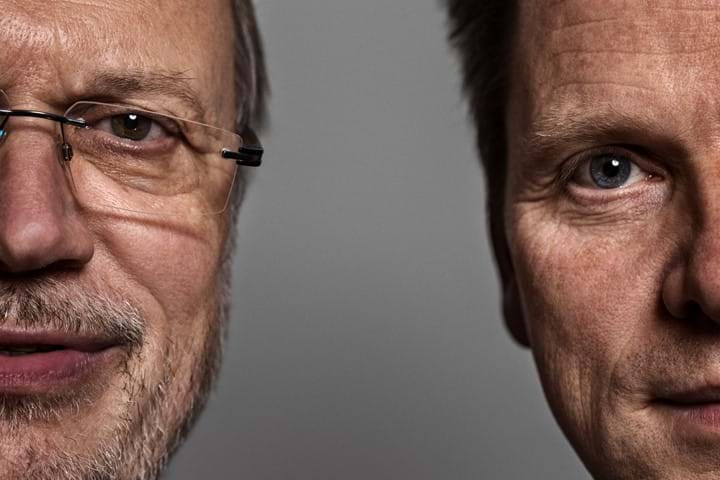 Magnets and wires and robots
The driver sits at the heart of it all. We develop and manufacture them all ourselves – right down to magnetising the magnets and winding the voice-coils. Winding is an automated process these days (although even the robots we built can't escape the eagle eyes or ears of our quality-control people), but at one point even this was done by expert pairs of hands.
We use aluminium wire instead of conventional copper. It's lighter, which lets us double the coil diameter for any given weight. It also lets us use longer windings – which gives the driver longer excursion and better heat dissipation. (And that, in English, means we have tighter control over the sound.)
We make our drivers in house too, from our own version of a material called MSP. The whole thing is made in one piece – including the dust-cap – so there's no need for glue. (Although our engineers can tell the difference between different glues just by listening; never let it be said we don't know how to have a good time.)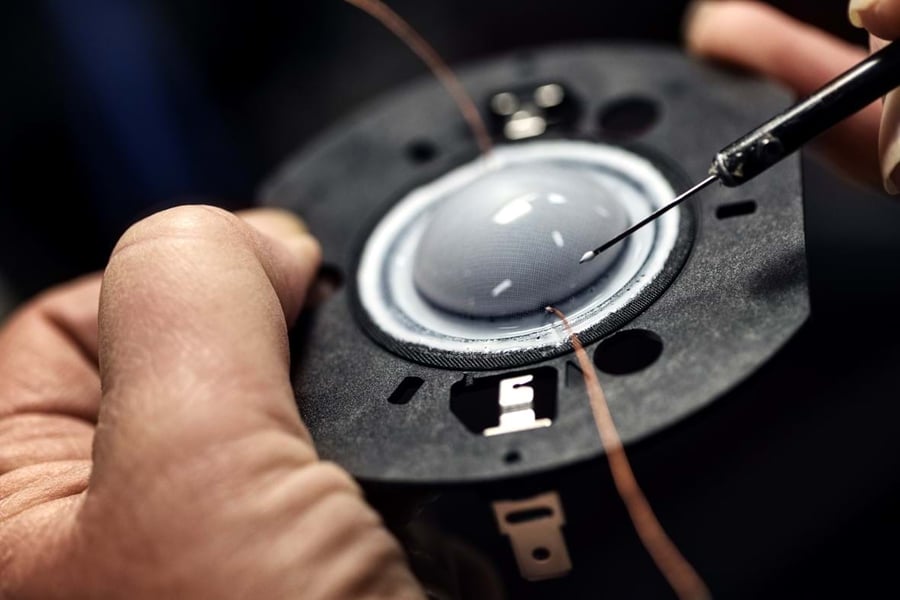 Building the motors
You might notice our cones are shallower than those of our competitors. That isn't an accident, and it isn't just because we want to be different. It's to improve our speakers' off-axis performance – so the sound you get off to the side is far closer to what you hear out in front… perfect if you have friends over and don't want to give up the good seat.
There are other, less obvious details, too. Some you won't even see – like the spider. That's the springy piece of material that acts as the voice-coil's suspension. It's springy because it needs to control how much the voice-coil moves back and forth, and how much air there is behind the speaker cone. We've improved its symmetry by taking measurements and performing simulations – which improves the sound you hear.
It all sits in the basket. That's the physical housing for the whole driver motor. The car around its engine (or, if you prefer, the Fort Knox around that precious gold). It's just as important – so even though you can't see it, we've spent just as much time refining its design as we have every other part of our speakers. Ventilation is crucial: it's made to reduce turbulence behind the driver, which, again, helps them sound their best.
High-quality high frequency
Then there's our signature soft-dome tweeters. We don't let anyone else near them (apart from our talented team, of course). We've been refining our tweeter designs ever since we started out: geometry, shape, materials, stiffness… even the coating. We use the right amount, in the right places, at the right density, to control roll-off and keep a steady hand on the treble response. Because they aren't made of metal, they have a flatter, more linear frequency response – and, we think, better sound.
But, in the end, it all comes down to our people. They're fanatical about what they do (you really should check out one of our glue-listening sessions; they're enlightening), and they're incredibly proud of what they produce.
And, with our brand-new R&D facility that opened at the end of 2016, they're even more excited about what new stuff they can come up with next…
Sign up to get more great articles
Nothing compares to the satisfaction of knowing – for a fact – that something is as good as it gets