Inside Confidence
The updated Confidence range features a raft of improved technologies. They've all been conceived, engineered and perfected in Dynaudio Labs, the giant, state-of-the-art R&D facility at our HQ in Skanderborg, Denmark.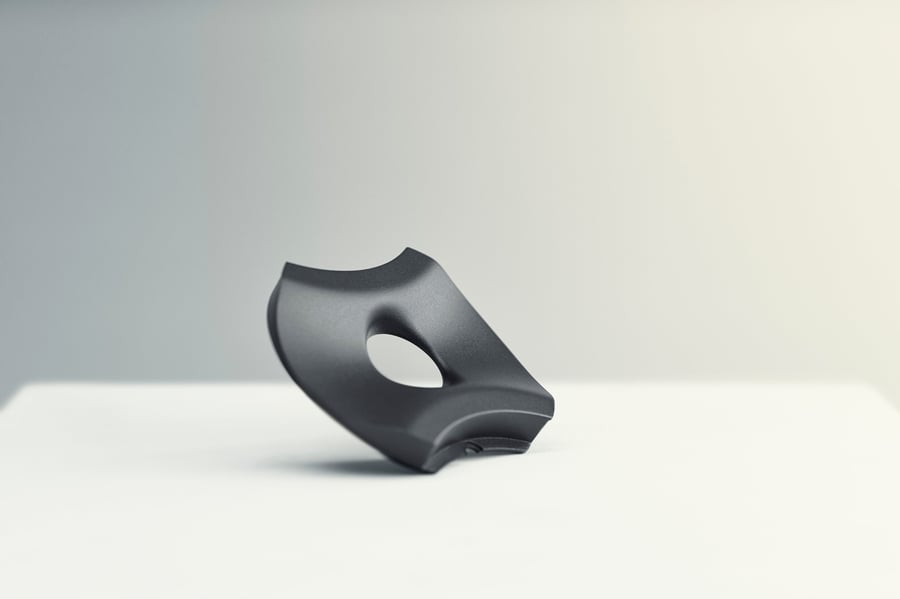 Esotar3 tweeter
The Esotar3 is the pinnacle of Dynaudio soft-dome tweeter design. It's an evolution of the renowned Esotar2 found in the 2016 Contour and previous Confidence series, and it incorporates (and improves on) the cutting-edge airflow-optimisation technology seen in the award-winning Esotar Forty anniversary-edition tweeter.
The Esotar3's rear chamber is much larger to reduce resonance, damping has been further optimised, and there's a super-strong neodymium magnet on board for greater sensitivity and control.
A lower resonant frequency means a shallower frequency overlap between the tweeter and the midrange driver, which you'll hear as better integration between treble and mids – or, to put it in musical terms – whatever you're listening to won't sound as if it's been divided into distinct 'double-bass', 'trumpet', 'triangle' areas. You get the whole picture; it's like listening in enhanced colour.
All these design changes mean our engineers were able to experiment with creating a tweeter that doesn't need heat-dissipating ferrofluid (which has been used in every Esotar tweeter up to now). In the Esotar 3, the combination of the more powerful magnet and the presence of the DDC Lens (see below) means a higher tweeter sensitivity. More sensitivity means the tweeter can react with a lower input voltage. And that means it doesn't get hot as fast – so it can play louder, just as clearly, for longer.
There's also a special component inside: the Hexis. This is a small inner dome that replaces the Esotar2's felt ring for even greater control over resonances, while also smoothing out the high frequency response.
Before the Hexis, we used a felt ring in the cavity behind the tweeter dome. This did a fantastic job of reducing unwanted resonances that would bounce back to the rear of the tweeter and affect its ouput. However, thorough measuring showed that we could do better when it came to avoiding absorbing high-frequencies (something felt is also very good at, as you can imagine).
The dimpled plastic inner dome of the Hexis eliminates those unwanted standing waves, as well as doing some incredibly clever work when it comes to stopping driver movement the moment the music signal stops. If dome resonance is halted, timing improves, imaging improves, detail improves… and so does your listening experience. And – of course – it was meticulously simulated, tested and refined in Jupiter.
The effect of all this? Higher detail-resolution, improved clarity and even better dynamics. Quite simply, The Esotar3 is the best tweeter Dynaudio has ever produced.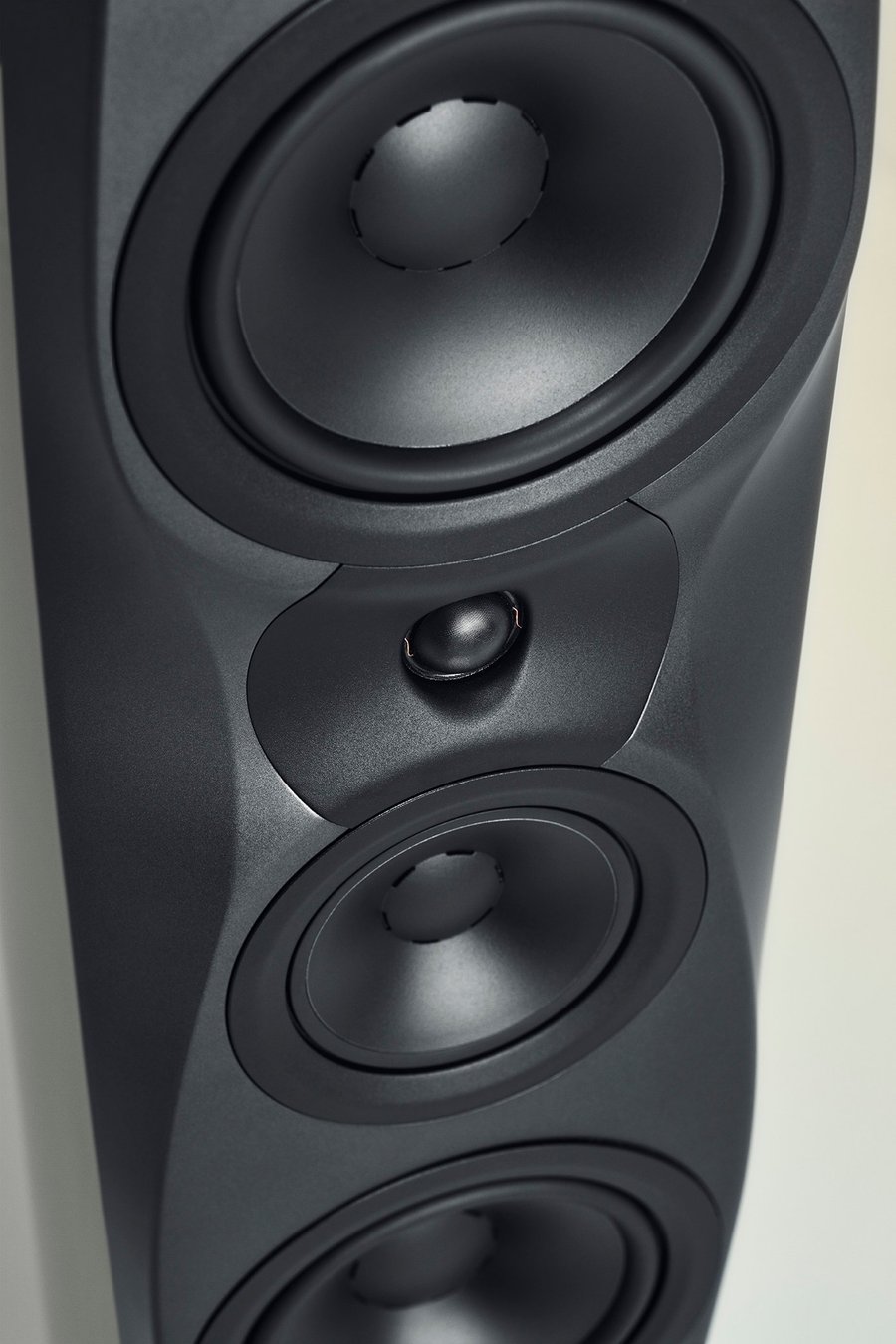 DDC Lens
The previous generation of floor-standing Confidence speakers had dual tweeters and an incredibly complex crossover help form a sound beam that would reduce reflections from floors and ceilings.
Why a sound-beam? Because if you're sitting in a larger room, likely one with a lot of hard surfaces, you don't want the soundwaves coming from the speakers to bounce off anything before they reach your ears. The room itself would colour the performance – so what you heard wouldn't be exactly what the drivers were producing.
Shaping those soundwaves into a focussed beam that shoots straight to the listening position effectively removes the need for complicated, expensive (and potentially ugly) room-treatment.
The original system was called DDC (Dynaudio Directivity Control), and it was derived from our decades of experience in building ultra-high-end professional systems for some of the world's most famous recording studios.
Dynaudio Labs has created a next-generation DDC platform for the updated Confidence family. It uses all the same principles – every component (including the Compex baffle) is integral to its success – but now we've taken it even further.
The latest DDC speakers need only one tweeter and a far simpler crossover, thanks to the DDC Lens. This is an intricate, precision-formed aluminium waveguide that hones the vertical audio image while maintaining wider horizontal dispersion than before.
The DDC Lens works in conjunction with the Esotar3 and the speakers' midrange drivers and woofers to greatly reduce unwanted reflections from the floor and ceiling, and to focus the stereo image on the listening position.
But because our engineers are never satisfied with merely 'excellent', they took it a step further. They've figured out a way to increase the horizontal dispersion while maintaining a tight vertical beam – meaning a bigger sweet-spot, a happier audience and more musical enjoyment all-round.
During development, the DDC Lens was computer-simulated, modelled and 3D printed in a mind-boggling array of combinations. It was slotted into prototype speakers, hoisted 6m into the air in our Jupiter measuring facility, and painstakingly analysed. Then it was listened to, with real ears and real music, before being refined again. And again. Finally, after an extensive prototyping process, it emerged in this exact shape. It's a shape borne of acoustic necessity – and, as is often the case with all things engineering, the correct solution is often the best-looking one.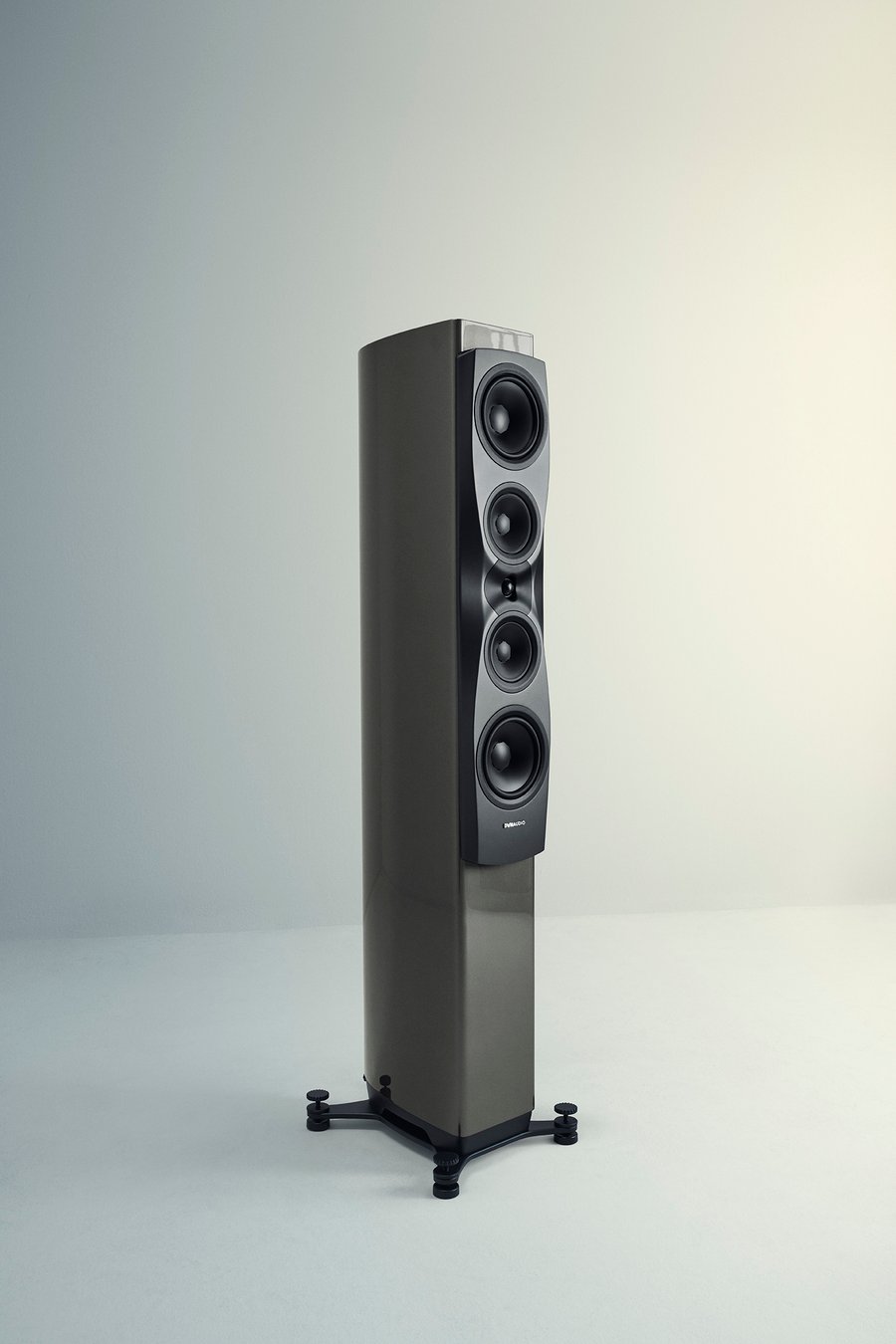 NeoTec woofers
The Confidence's woofers use neodymium magnets for greater power, more finesse and improved dynamic range.
The drivers have updated voice-coils that use up to three layers of glass-fibre in their formers for optimum stiffness, along with developments in airflow and venting (particularly in the bottom of the yoke).
We don't believe in 'one-size-fits-all' when it comes to making new parts. That's why our engineers decided to use different materials for the actual voice-coil wire, depending on the speaker model and the context in which the driver will be used. It means the speaker's tuning is more complete, and each driver's performance is completely optimised for its purpose.
The Confidence 20 uses an aluminium voice-coil in its woofer, while the Confidence 30, 50 and 60 use copper. Our engineers wanted to increase the force-factor of the woofers in the larger, floor-standing Confidence models to give them more sonic punch. Using copper here gave slightly higher moving mass to align with the cabinet tuning. The diaphragms in the floor-standers' woofers are also slightly thicker to provide more stiffness – because they're used purely as bass units. The updated midrange driver (see below) can handle the rest.
The magnets themselves build on the lessons we learned from the Special Forty's neodymium/ferrite hybrid units (which used two materials in order to shape magnetic flux around the voice-coil to better control its movement). The Confidence range uses pure neodymium, along with some hyper-optimised shaping in the air-gap, and different positioning, to achieve the same effect. One machined magnet per speaker, one incredibly elegant solution.
And, of course, all the Confidence's NeoTec woofers's diaphragms are made from Dynaudio's celebrated MSP (Magnesium Silicate Polymer) material. It's a proprietary composite that we've been using, refining, perfecting and enjoying for decades.
Updated midrange driver with Horizon surround
The Confidence's improved MSP midrange driver is a big departure from previous Dynaudio designs.
It has a radical surround design that follows the cone's shape right to the edge of the driver. This reduces the surround's first resonant mode to effectively increase the entire playing surface area and improve performance. It also sits flush with the baffle to reduce diffractions from the diaphragm and the adjacent tweeter.
Behind the scenes, the basket has been given a lightweight organic design – one that's resulted from extensive topology-optimisation simulations. It increases airflow, maintains its stability and rigidity and reduces weight simultaneously without sacrificing performance.
Compex baffle
The Confidence's signature baffle has also been revamped. It's now crafted from an advanced composite, Compex, that's not only very light, but extremely strong, not to mention rigid and well-damped to absorb unwanted resonances. Lift one up and tap it, and you'll hear that it's acoustically very dead. Exactly as it should be.
The drivers are integrated into the baffle with special gaskets. There's an alloy mounting plate on the back containing the screws – which means the woofers are very tightly coupled, and the tweeter and midrange drivers are decoupled as much as possible to avoid vibration.
The Compex baffle has been developed, simulated and machined to work as part of the DDC Lens – so they both, along with the drivers and crossover, all mesh perfectly into the DDC platform.
Why composite? The MDF of the previous Confidence's baffle wouldn't be able to handle the precise angles, curves and edges that the updated DDC technology demands. Compex can. Plus, it can be designed with specific mechano-acoustical properties that won't change over time.
Hybrid down-firing bass port
Confidence's bass-port is more than just a tube. Each model has a port that's been listened to, measured and specified individually to suit that exact speaker. True bespoke engineering. The only way you'll see it is if you disassemble the speaker (please don't), but you'll definitely appreciate its effect when you listen.
It travels from deep inside the speaker down through the bottom, where it passes through the plinth and flares out – effectively creating a two-port system. Meanwhile, a dense silicon port diffuser – carefully shaped to complement the flare – divides and controls the airflow, directing it out to the sides.
The whole speaker sits on a solid steel base-plate, which is always in the same position and effectively takes the place of the floor (or, for Confidence 20, the top-plate of the stand). That never-changing foundation, the constant gap between it and the bottom of the hybrid port – plus the fact that there are no holes on the back of the speaker – means you can place Confidence on any surface (hard floor or deep-pile carpet) and in any position (next to a wall or in free space) without affecting the port's performance.
Timeless design
When designers and engineers push each other to the limit to strike the perfect balance between form and function, the result can't fail to be striking. And there's no denying that Confidence's look grabs you by the lapels and demands attention.
Our design team spent months researching shapes, colours, finishes and materials to create a speaker family that looks every bit as arresting in a small listening room as it does in a palace. They worked hard to make sure its character stayed true to the original Confidence range, but displays a fresh, imposing character in keeping with its powerful performance.
From the beautifully curved cabinet and the distinctive baffle shape to the sumptuous finishes and veneers, Confidence fully lives up to its name. In every way.
Designed and engineered in Denmark
---
We put Confidence through intensive –and exhaustive –testing in the Jupiter measuring facility at Dynaudio Labs. Hundreds of hours of analysis and listening have resulted in the best speaker we've ever created.
The legend continues. The Esotar3 is optimised for detail, finesse and performance. It includes the ingenious Hexis resonance-defeating inner dome, plus innovations in materials, airflow and more.
Dynaudio Directivity Control, our sound-shaping technology platform, has been rebooted, revamped and refined to include the DDC Lens –a unique machined waveguide that focuses your music exactly where it should go: your ears.
Status:

Segment:

Range:

Type:

Sensitivity (dB @ 2.83V/1m):

IEC Power Handling (Watt):

Rated Impedance (Ohm):

Minimum Impedance (Ohm):

Lower Cutoff (Hz @ +/- 3 dB):

Upper Cutoff (kHz @ +/- 3 dB):

Box Principle:

Crossover:

Crossover Frequency (Hz):

Crossover Topology:

Tweeter:

Midrange:

Midrange/Woofer:

Woofer:

Weight kg:

Weight lbs:

Width mm:

Height mm:

Depth mm :

Width inches:

Height inches:

Depth inches:

Width mm incl. feet/grill:

Height mm incl. feet/grill:

Depth mm incl. feet/grill:

Width inches incl. feet/grill:

Height inches incl. feet/grill:

Depth inches incl. feet/grill:

Grille:

Baffle:

Baffle: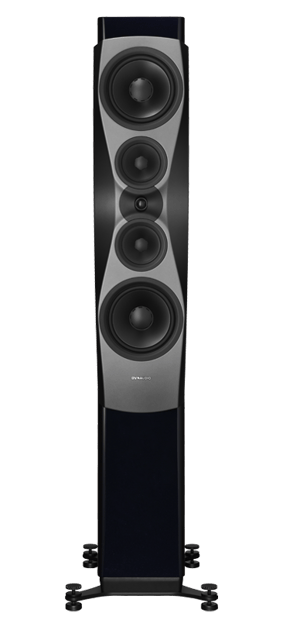 Confidence 60

Current

Home

Confidence

Floorstand

87

600

4

3.7 @ 71 Hz

29

22

Bass reflex down-firing port

3-way

200/2580 Hz

2nd/3rd order w. DDC

28 mm Esotar 3

2x 15 cm MSP with Horizon

2x 23 cm MSP

66,2

146

271

1634

469

10 5/8

64 3/8

18 4/8

432

1679

517

17

66 1/8

20 3/8

Black

Compex

DDC 2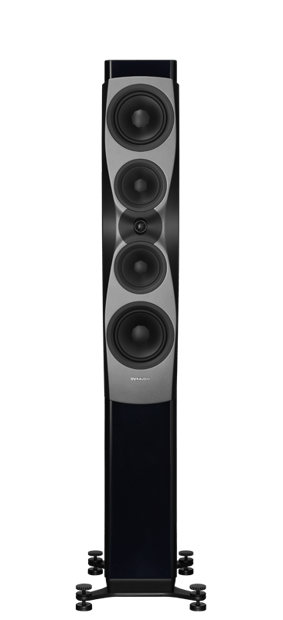 Confidence 50

Current

Home

Confidence

Floorstand

87

400

4

2.7 @ 79 HZ

35

22

Bass reflex down-firing port

3-way

200/2860 Hz

2nd/3rd order w. DDC

28 mm Esotar 3

2x 15 cm MSP with Horizon

2x 18 cm MSP

49,6

109 3/8

218

1512

399

8 5/8

59 4/8

15 6/8

364

1557

424

14 3/8

61 2/8

16 6/8

Black

Compex

DDC 2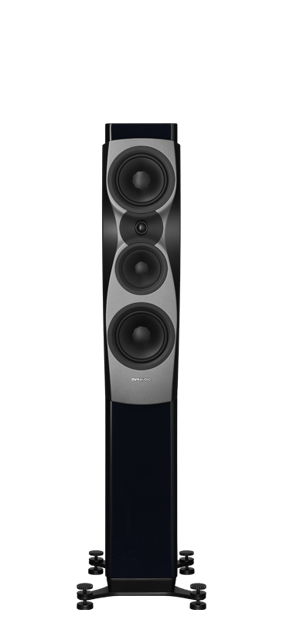 Confidence 30

Current

Home

Confidence

Floorstand

88

350

4

2.8 ohm @ 85 Hz

38

22

Bass reflex down-firing port

3-way

290/3700 Hz

2nd/3rd order w. DDC

28 mm Esotar 3

15 cm MSP with Horizon

2x 18 cm MSP

44,2

97 4/8

222

1337

399

8 6/8

52 5/8

15 6/8

364

1382

424

14 3/8

54 3/8

16 6/8

Black

Compex

DDC 2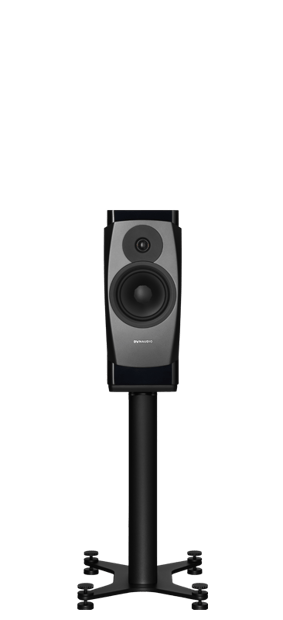 Confidence 20

Current

Home

Confidence

Bookshelf

87

250

6

5 ohm @ 155 Hz

42

22

Bass reflex down-firing port

2-way

2325 Hz

2nd order

28 mm Esotar 3

18 cm MSP

27

59 4/8

233

520

414

9 1/8

20 4/8

16 2/8

223

520

444

8 6/8

20 4/8

17 4/8

Black

Compex

DDC 2
Find a dealer
Find your nearest Dynaudio dealer and pay them a visit today, or sign up for a listening session.
Ask for our Dynaudio specialist
{specialistName}
{description}