'Play something for me'
Our Creative Director is a quite capable heavy-rock guitarist, albeit with a Grammy-free mantelpiece back home. But that isn't relevant to a producer with Justin's approach, as he works on the premise that every artist brings something different into the studio. Whatever that might be, music will happen!

To get started, Justin programs a beat on a vintage step-sequencer, records it and loops it in Pro Tools. Then he adds a vintage tremolo device to the guitar signal and adjusts the effect to roughly the same tempo as the beat while John noodles around with different chord progressions. (He later told us this was not his usual style at all; the laid-back beat he was given forced some entirely different stuff out of his fingers.) Along the way, Justin apparently hits the record button, and all of a sudden has a guitar part that he quickly edits and loops along with the beat in Pro Tools.

At no point did he try to guide John in any particular direction, suggesting alternative chords, different playing styles or settings on the guitar. He was just in the room being part of the process, choosing the section he wanted to use on his own terms. After all, he is the producer…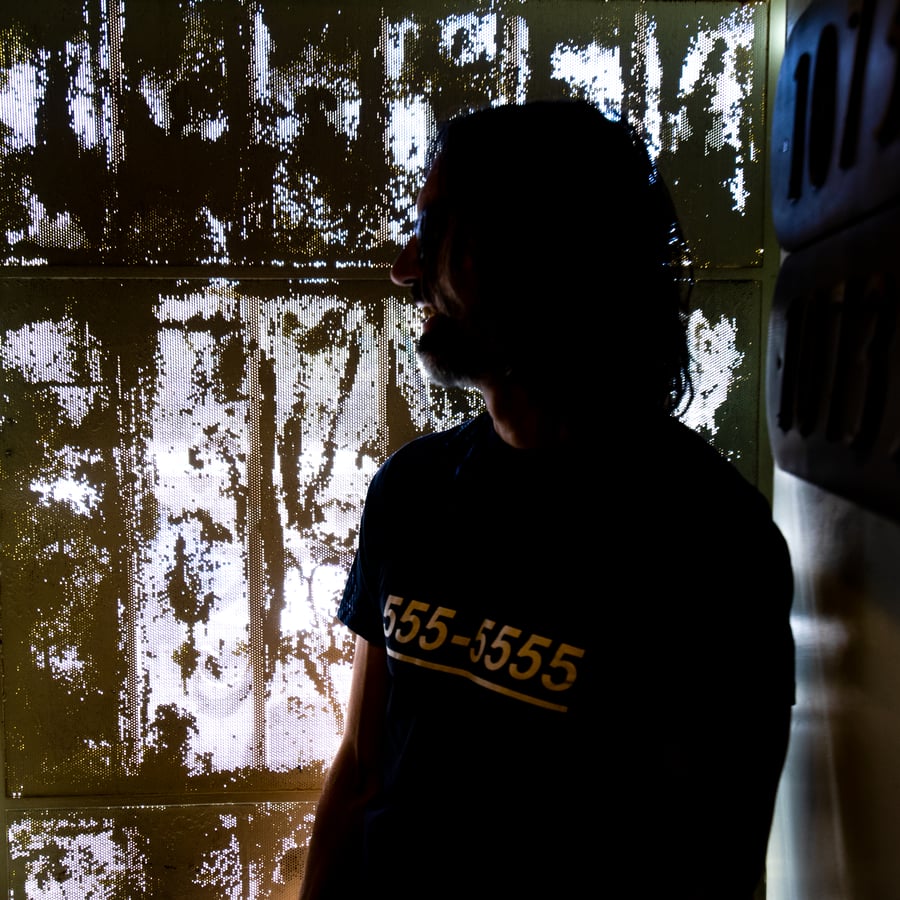 Gibsons and Moogs and tablas and…
Justin started out as a drummer, but as a child he never said: "All I want to do is play the drums". He said: "All I want to do is to make music." Notice the difference?

Today, Justin plays a wide variety of instruments. While he might not be a virtuoso on all of them, he's very much capable of expressing himself – and, thanks to his fundamental musicality, he manages to play just what is needed from a pure musical perspective. It's all about being present in the room and finding meaningful ways to serve the musical process.

Back to the track. Justin lays down a groove on the bass – he goes with the second take and quickly edits it to fit the Pro Tools arrangement. The next step is some subtle Indian percussion, as he hands John a tabla and points an SM57 in his direction. Again, no guidance; just encouraging the artist to play something and see where it goes.

Next up, Justin leaves the room to record some real drums, which he nails almost immediately, and they just sit organically in the music right away – sound-wise and groove-wise. Now, the track has an extra layer that makes it crave yet another round of electric guitar. Justin decides that John needs a Gibson SG with some gain to give it a shot of pure rock. And finally, he fires up a lovely old Moog synth, which pulls in a different direction yet blends in very nicely.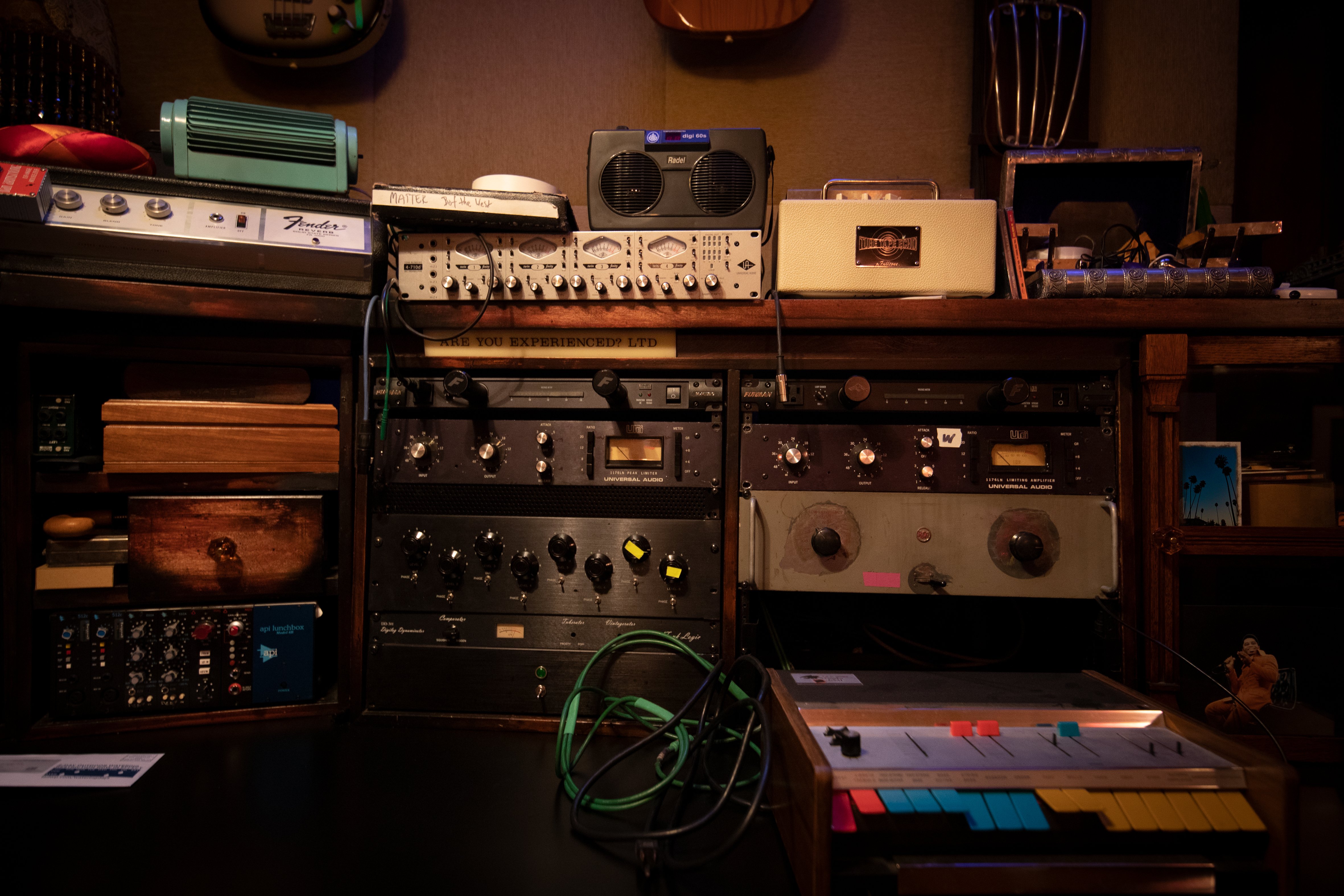 Virtuous vibes and rolling tapes
The track ends up being a relaxed, stoner-ish, behind-the-beat groove with some added rock spice. It remains nameless, and it will neither be released nor earn our editor his first Grammy. It wasn't even mixed. It was just a fun jam in the studio – but with a great musician and producer, who has an alternative and highly inspirational approach. As experiences go, it was a real eye-opener.

Justin's a master at reading vibe and adding bits and pieces (using whatever instrument) that make arrangements shine. Perhaps that's the real magic: making artists relax in his presence and ultimately be so comfortable that they deliver stellar performances when the tape is rolling.

Speaking of tape, that was one of the few gear-related bits Justin talked about during our visit: "I love tape, but it's such a debate. It blurs the lines a bit, which I love. It also gives you time to think between takes. You can only fit three songs on a reel – and then when you're rewinding you've got this moment where you're contemplating what to do next. Just the sound of that tape; it's soothing. Digital doesn't allow that. Anything goes, which is the upside, but you have to create that space to reflect – make a cup of tea or whatever."

(Justin makes a great cup of tea.)

That particular point taps right into Justin's overall approach to music, producing and recording: be present here and now and reflect on what's happening. What happens next could be anything, but if you keep an open mind (and open ears), it could be something great.

"Who knew he had it in him?", Justin says, finally, of the impromptu performance. "That's great. That's awesome."

We came with an ambition to talk about speakers, converters, preamps, microphones, plug-ins, equalizers, compressors and whatnot, but we got something else.

We got to spend an afternoon in a genuine musical playground.
Additional words: John Steward
Pictures: Henrik Kastenskov
Sign up to get more great articles
Nothing compares to the satisfaction of knowing – for a fact – that something is as good as it gets