The science of art
Thanks to our Jupiter testing facility (among the largest in the world) and an ever-expanding engineering and design departments, we've been able to pursue advanced technology breakthroughs at a feverish pace.
And they aren't just drawing-board concepts: witness Core's Esotar Pro tweeter. It takes everything studio engineers know and love about previous Dynaudio soft-dome tweeters and adds the ingenious resonance-defeating Hexis device. This next-generation tech smooths out the frequency response and minimises unwanted resonances – revealing transients while maintaining sensitivity to low-level details, imaging, and depth. Get ready to hear things in the mix you'd never heard before.
Core's midrange and bass drivers are built with novel combinations of elements to precisely optimise each unit's performance for its intended purpose. Deep bass drivers, for example, have different requirements than midrange motors in three-way designs – so the materials used are specifically selected and tested to perform each duty at the highest level.
A copper voice-coil, glass-fibre former and ceramic magnet are implemented in the low frequency drive units to enhance the 'BI' (force factor) needed for punchy, deep, and accurate bass – whether you're monitoring at low-level or the band is standing behind you and they've demanded you crank it.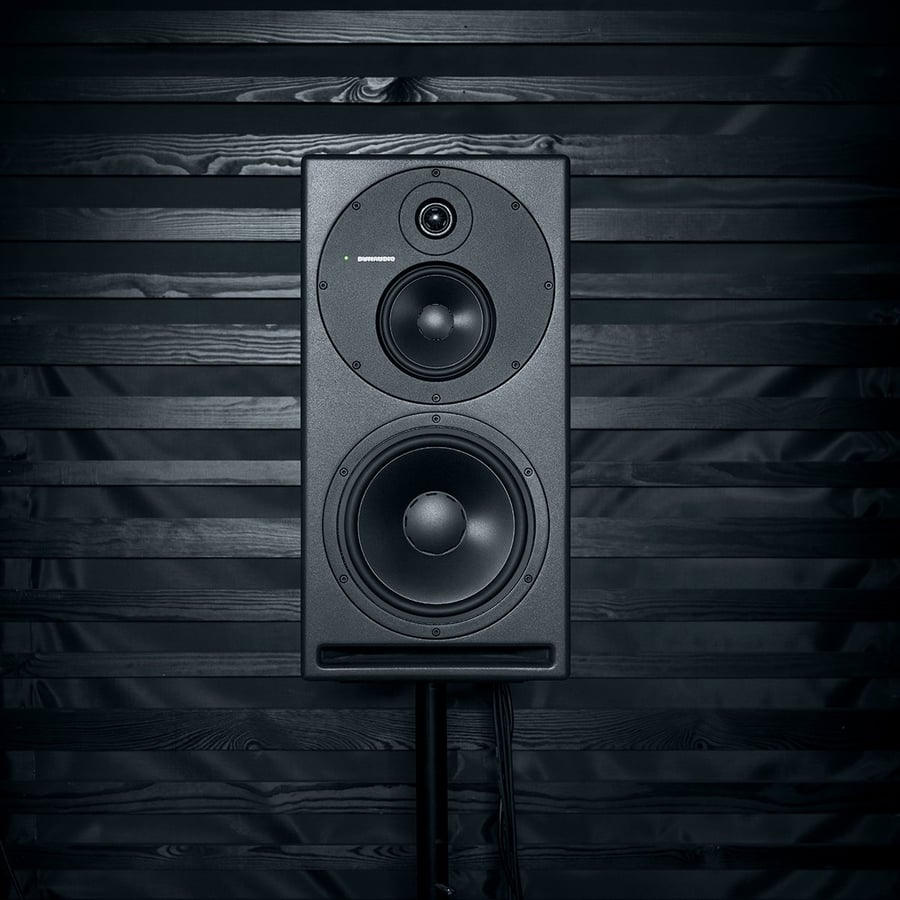 Active, digital and awesome
Dynaudio has been at the forefront of digital processing in monitor systems since we introduced the AIR series in 2002. Those speakers were way ahead of their time, with networked digital connections and advanced processing algorithms.
Core builds on that legendary design with the latest in DSP and AES3 digital connectivity, giving you all the refinements that come from the AIR experience found in so many studios. And more: Core also features both analogue and digital inputs with simplified (yet more useable) DSP settings.
Using the analogue inputs, all audio is processed at 192kHz for the crossover and tuning, yielding the most accurate reproduction possible. Class-D amplification from Pascal provides the power and punch, delivering the finest details along with the deep, visceral bass that our reference monitors are famous for. AES digital inputs are provided for the most direct signal path available, with external word clock to synchronise with your studio's infrastructure.
Your studio, your way
Flexibility in installation is another Core essential. We've designed the series so that each monitor can be placed horizontally or vertically, and can be mounted on all four sides for a multitude of positioning possibilities.
Special pads fit into indentations on all four sides of the cabinet, making it easy to place the speakers as you need without damaging their finish or the supporting surface. The pads keep them ultra-stable, too. This flexibility, coupled with a standard VESA mount, makes for a bold and durable construction that's up to the rigours of studio use in a raft of situations.
And because the entire design and assembly process is handled at our factory in Skanderborg, Denmark, the opportunity to test the efficacy of each design is as simple as walking it over to the Jupiter testing room to put it through its paces. In the end, though, our experienced acoustic designers have the last say in how a design performs in the real world. They use the best listening instruments it's possible to find: their own ears. When it passes this test, it is truly a Dynaudio product.
You need a monitor system you can trust. Trust is something that's earned in this industry and the Core speakers are ready to earn yours by giving you the most accurate reproduction that the latest technology and 40 years of expertise can provide. The Core professional monitors are simply the best we've ever made. This is what performance sounds like.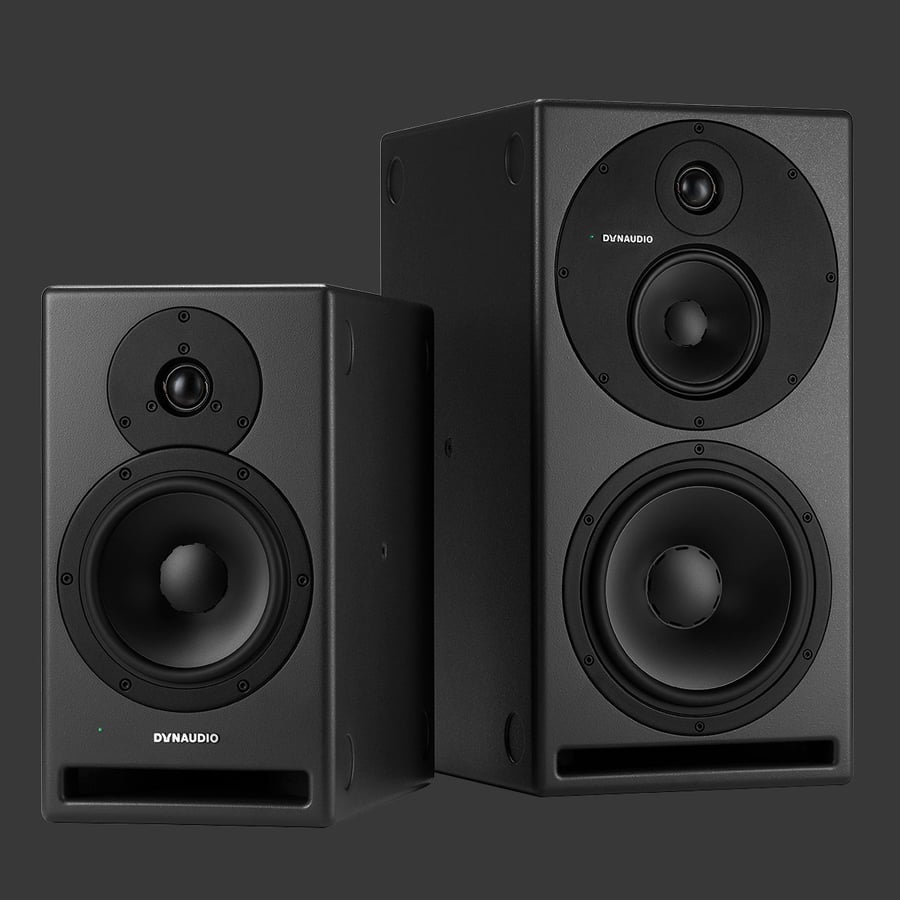 Status:

Segment:

Range:

Type:

Analog inputs:

Digital inputs:

Digital outputs:

Maximum SPL (Anechoic dB @ 1m):

Maximum SPL (Half space dB @ 1m):

Amplifier Power Woofer (Watt):

Amplifier Power midrange (Watt):

Amplifier Power Tweeter (Watt):

AC Power Input:

Lower Cutoff (Hz @85 dB +/- 3 dB):

Upper Cutoff k(Hz @ 85dB +/- 3 dB):

Lower Cutoff Dynamic (Hz @ -6 dB):

Upper Cutoff Dynamic k(Hz @ -6 dB):

Box Principle:

Crossover:

Crossover Frequency (Hz):

Tweeter:

Midrange:

Midrange/Woofer:

Woofer:

Weight kg:

Weight lbs:

Width mm:

Height mm:

Depth mm:

Width inches:

Height inches:

Depth inches:

Speakers per packaged box:

Finishes:
Core 59

Current

Pro

Core

Main Monitor

XLR

AES3 XLR

AES3 XLR

112

118

500

500

150

100-240V 50/60Hz

42

27

36

31

Front-loaded bass reflex

3-way DSP-based

385/5000 Hz

1.1in Esotar Pro soft dome w. Hexis

5in MSP

9in MSP

24,2

53.4

280

550

380

11

21 5/8

15

1

Dark Grey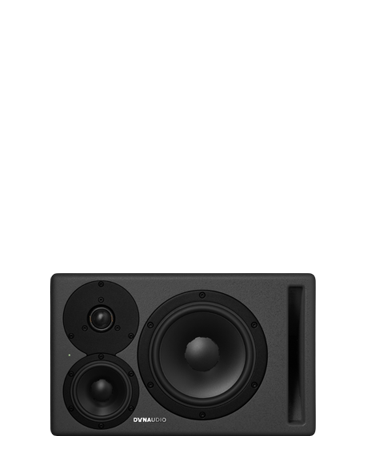 Core 47

Current

Pro

Core

Nearfield Monitor

XLR

AES3 XLR

AES3 XLR

112

118

500

500

150

100-240V 50/60Hz

44

27

37

31

Front-loaded bass reflex

3-way DSP-based

475/5250 Hz

1.1in Esotar Pro soft dome w. Hexis

4in MSP

7in MSP

15,1

33 2/8

390

355

240

15 3/8

14

9 4/8

1

Dark Grey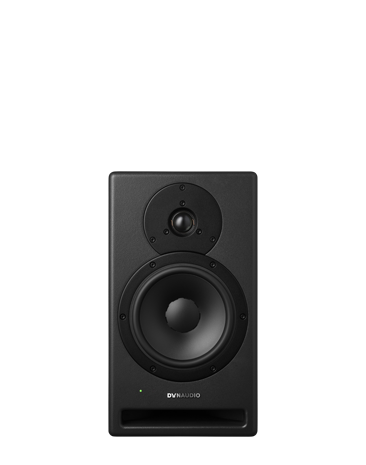 Core 7

Current

Pro

Core

Nearfield Monitor

XLR

AES3 XLR

AES3 XLR

112

118

500

500

150

100-240V 50/60Hz

45

27

38

31

Front-loaded bass reflex

2-way DSP-based

2300 Hz

1.1in Esotar Pro soft dome w. Hexis

7in MSP

14,7

32 3/8

220

370

390

8 5/8

14 5/8

15 3/8

1

Dark Grey
Find a dealer
Find your nearest Dynaudio dealer and pay them a visit today, or sign up for a listening session.
Ask for our Dynaudio specialist
{specialistName}
{description}