As a kid, Shlohmo messed around with guitars, basses and drums so the general interest in music was always there. But when his uncle introduced him to Apple's Garageband at the age of 14, he experienced the freedom to really experiment and mess around on his own with a creative tool at his fingertips. And soon he found himself locked up in his room for hours and hours, creating his very first beats and tracks.

It was also around this time that he discovered the Low End Parties in LA, pushing him further down the path of electronic music production. Eventually, Shlohmo found his voice in a lo-fi, psychedelic mix of abstract hip-hop, bouncy synth-funk and breezy trip-hop, creating tracks that are stuffed with dirty textures, strange sounds and obscure samples.
Experimenting and Listening

At first, Shlohmo was all into Hip Hop. He knew what sound he wanted, but didn't really know the tools or how to produce Hip Hop music 'properly'."I didn't know anything about the grid and the timeline in Garageband,"says Shlohmo."I would just drag in samples and since I was also into DJ'ing I had a Numark CD turntable that I used for resampling myself scratching directly into Garageband without paying attention to the timeline or anything. It was really bad and, basically, I had no idea what I was doing at the time!"
Later, he added Propellerhead's Reason software and started exploring a much broader variety of the electronic music spectrum. "Then I got into House and Electro. Reason was really cool for that. But I was also DJ'ing a lot and was into all kinds of electronic music. A great source for discovering new music and artists was skate videos. I would pause the video when the credit list was coming up and find out who created the music. I would find artist like DJ Shadow, Amon Tobin, M83, etc., not having a clue about who they were. And since I couldn't just Google it, I would go to the record store and pick up some CDs. Today, I am more into Techno and Acid, but the entire back catalog of music I have listened to is there and was a big part of shaping me as an artist."

It was important for me to make music on poor gear for a long time to really understand the value of having great gear.
Shlohmo,
WeDidIt
Shlohmo is a co-founding member of the LA electronic music and visual arts collective 'WeDidIt' that also counts artists such as D33J, Groundislava, Nick Melons and RL Grime. The concept started out as a blog during college so they could keep in touch and share stuff with each other, but eventually others started following the blog and it developed into the record label and brand that it is today.
The 'visual arts' element is not just part of the concept by coincidence, as Shlohmo actually studied art and approaches of his music much like paintings, thinking of the frequency range from low to high in much the same way the color spectrum is going from dark to light. To him, the visual aspect is part of the package and the WeDidIt concept also allows him to travel with a group of friends instead of alone, which he finds very rewarding.

Mostly, I find inspiration in things that are weird and 'not right', and then I just try to build a structure out of it. It's always been the most interesting part to me.
Shlohmo,
Backwards Production
During our Studio Masters series, we have learned that finding inspiration and turning ideas into actual tracks can come in many forms, so we were obviously curious to learn more about what inspires Shlohmo and how he approaches the creative process that follows. "Sometimes, I may have a concrete idea for, say, a bass line or something, but for the most part, I just start by searching for a sound that I think is weird enough to use for resampling. Typically, I'd go for a Korg Monotron Delay, plug in a guitar and just try to mess it up completely. Mostly, I find inspiration in things that are weird and 'not right', and then I just try to build a structure out of it. It's always been the most interesting part to me. Drums are usually the last I add. It's literally the painting thing, you know. Sometimes, I use the drums to kind of wash down the canvas a little. In the early days, I often started with the beat, but now I am more driven by the melody, and the drums are more of a conversation happening around the melody. But you know, it's different. It's not like I have a recipe that I follow the same way for every track I produce."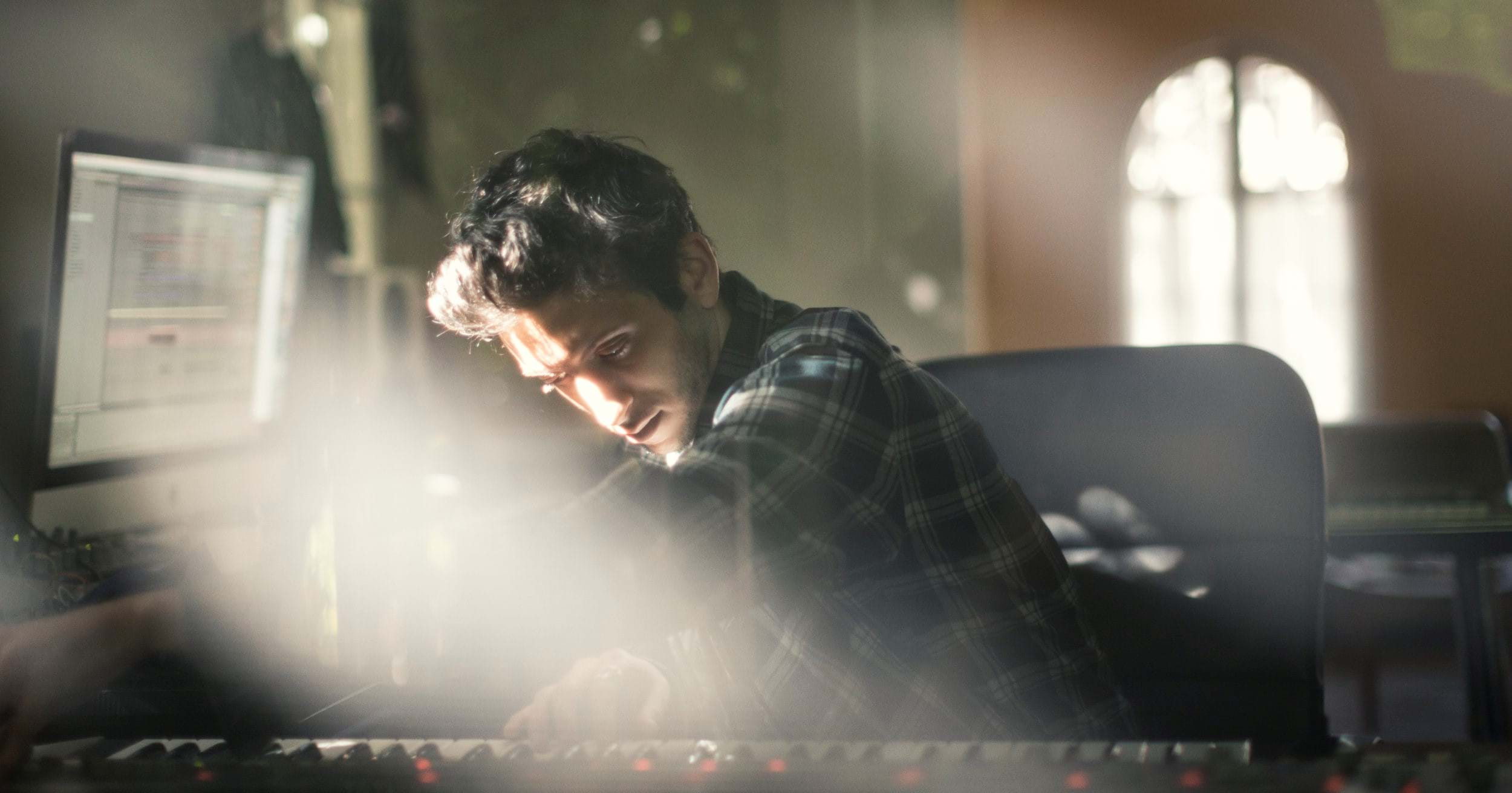 The Studios
Shlohmo has his own studio – where we met him – but he is also part of a shared studio with the WeDidIt collective. "My own studio is pretty small and you can't really use it for recording vocals so I couldn't bring in a rapper here. But I am also sharing a larger studio with the WeDidIt crew. It's by no means a million-dollar studio, but it does have a vocal booth, a nice mic and a compressor so you can track rappers and stuff like that. And we take pride in the fact that it is a casual studio that is just cool and comfortable rather than shiny and corporate.
And you know, I often use both studios. Maybe starting a project here and then go to the other studio for tracking vocals, but it could also be the other way around. Sometimes, I start recording in the other studio, but end up back here for the mixing sessions. It goes both ways."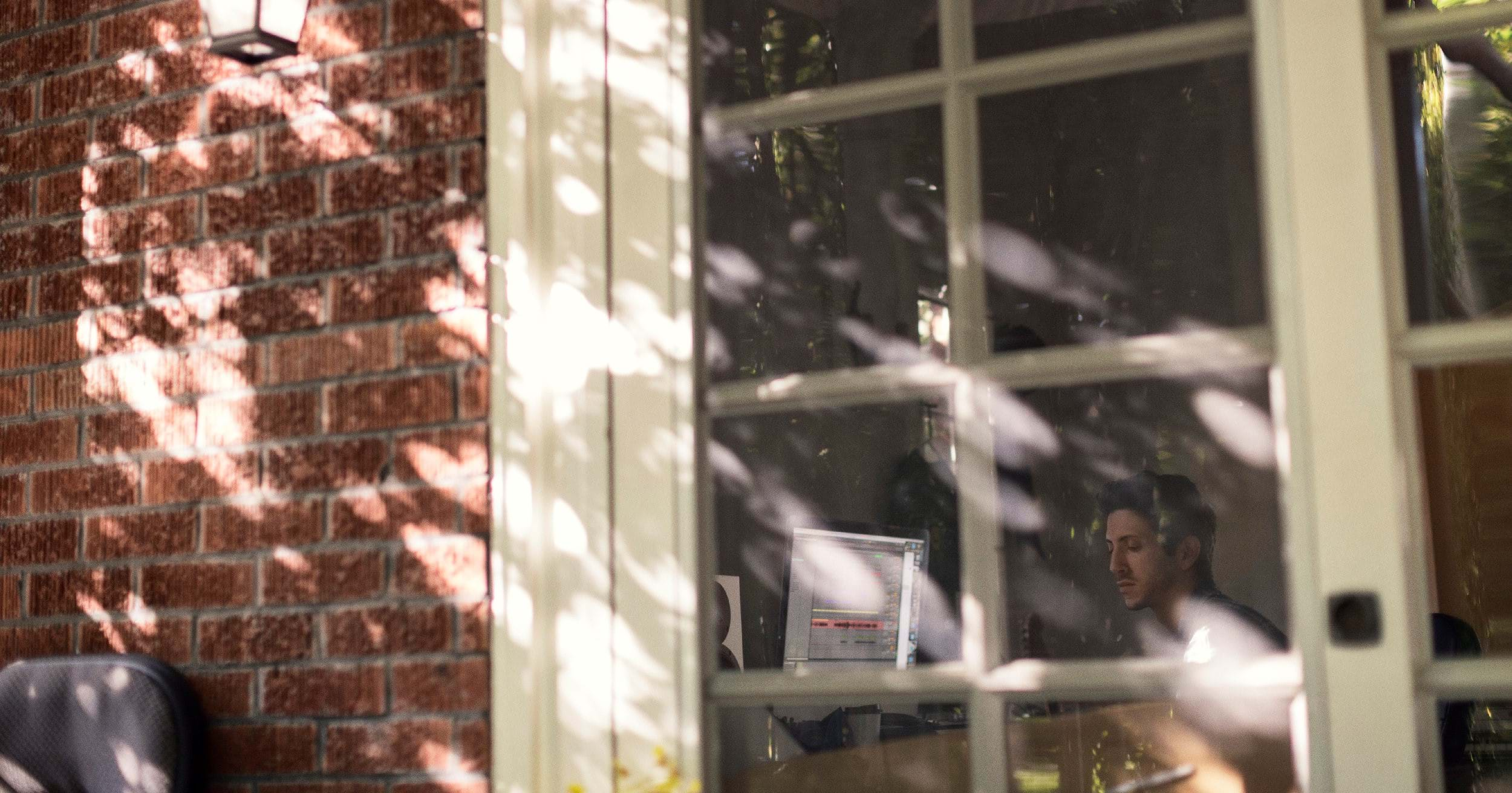 Keeping Motivated
Combining your studio with your home can be challenging when it comes to keeping motivated – or just to avoid being distracted by the couch, the internet or the TV – so we wanted to learn more about how Shlohmo copes with this and if he has any advice on how to stay productive in a home-based studio. "I'd say first of all, turn off the internet on the computer you're using in the studio. That helps a lot. But it's a funny thing, motivation, because it's really as simple as 'if you don't care, you don't care'. But if you do care, you will get things done. Having said that, there are also times where you really need to get away from the computer and do something else. I sometimes lock my self up in here for hours and hours only to realize that the track might have been even better if I had not forced it and just taken out an hour to step away from the keyboard and the computer to do something else."

How to stay motivated? Turn off the internet on the computer you're using in the studio. That helps a lot. But really, if you don't care, you don't care. And if you do care, you will get things done.
Shlohmo,
Taking It Outside
Shlohmo has been known to use field recordings as part of his tracks, so we wanted to hear more about this process. "Well, I used to do a lot of field recordings in the early days back in college where I really wanted to experiment. I was so amazed that you could use field recordings and use them to build entire tracks, but honestly, today I am not really walking around outside recording random sounds anymore. Now, I am much more interested in the songs and the structures. Sounds are still massively important to me, but if I do a 'field recording', it is often captured in here and I have a very specific idea of what kind of sound I am looking for. It has to be a part of something bigger now. For example, today I might have an idea where the sound of a glass being hit by a stick would be useful and I would just get a glass and a stick and capture that, whereas before I would walk around and record all kinds of sounds and then chop it up in Ableton Live and create a kit out of those samples, but without having a clear idea up front."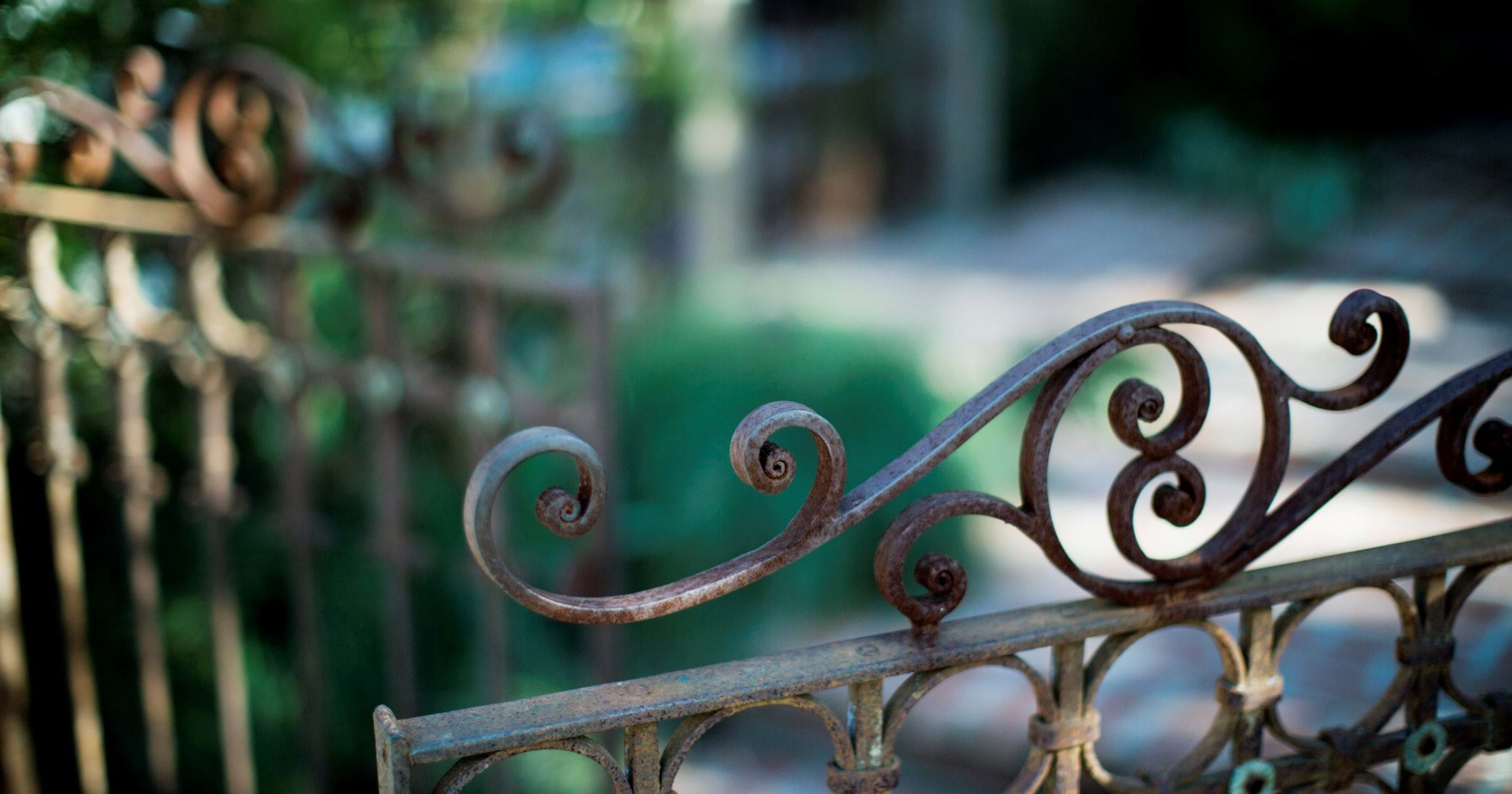 Keeping the Shlohmo Sound Move Forward
It is not unusual for young producers out there to discuss how to create that certain Shlohmo sound or groove, but how does Shlohmo feel about being deliberately replicated by others? "It's flattering, of course, but I really try not to think about it too much. It's weird. But the cool thing is that it also forces me to get bored with myself, because when I hear others that sound like me it's cool, of course, but I also get like 'I don't want to sound like them' and it helps me to keep moving forward. It's not like a very conscious thing that I deliberately want to change my sound and way of expression, it's really just an honest boredom with how I used to sound."
Arranging Tracks
"I find arranging music extremely hard, and that's probably why I am so into it right now – because it's the most challenging part. I mean, it's not easy to make a track mean something structurally and take you through a narrative without words. In a way, though, I also think it comes naturally what you want to come next in a song and I have simply been following that in the past. But more recently I have also spent a lot of time on studying how others work with song structures. Mostly old stuff, actually. I am really into old Motown records right now. For example how they make the bridges work. It's just so weird – and brilliant! But again, it's the structure I am interested in rather than the individual notes or chords."

Today, the musician has become the engineer, and when it's my own music, I am just really picky about it.
Shlohmo,
Mixing with Passion
Shlohmo mostly work alone in the studio and with a clear idea of what the final sound should be like. He rarely sends off tracks for additional mixing and mastering. "I know that for many people, it's totally fine to send their pre-mix for someone else to finalize, but I could never send something away that I spent like a year creating and perfecting. And most likely to some guy who is paid by the hour and have him put some EQ on it!? I get that bands needed that back in the day when someone wrote a song and they went to a studio for recording it. They knew how to compose and play, but nothing about producing. Today, the musician has become the engineer as well, and for me – when it's my own music – I am just really picky about it."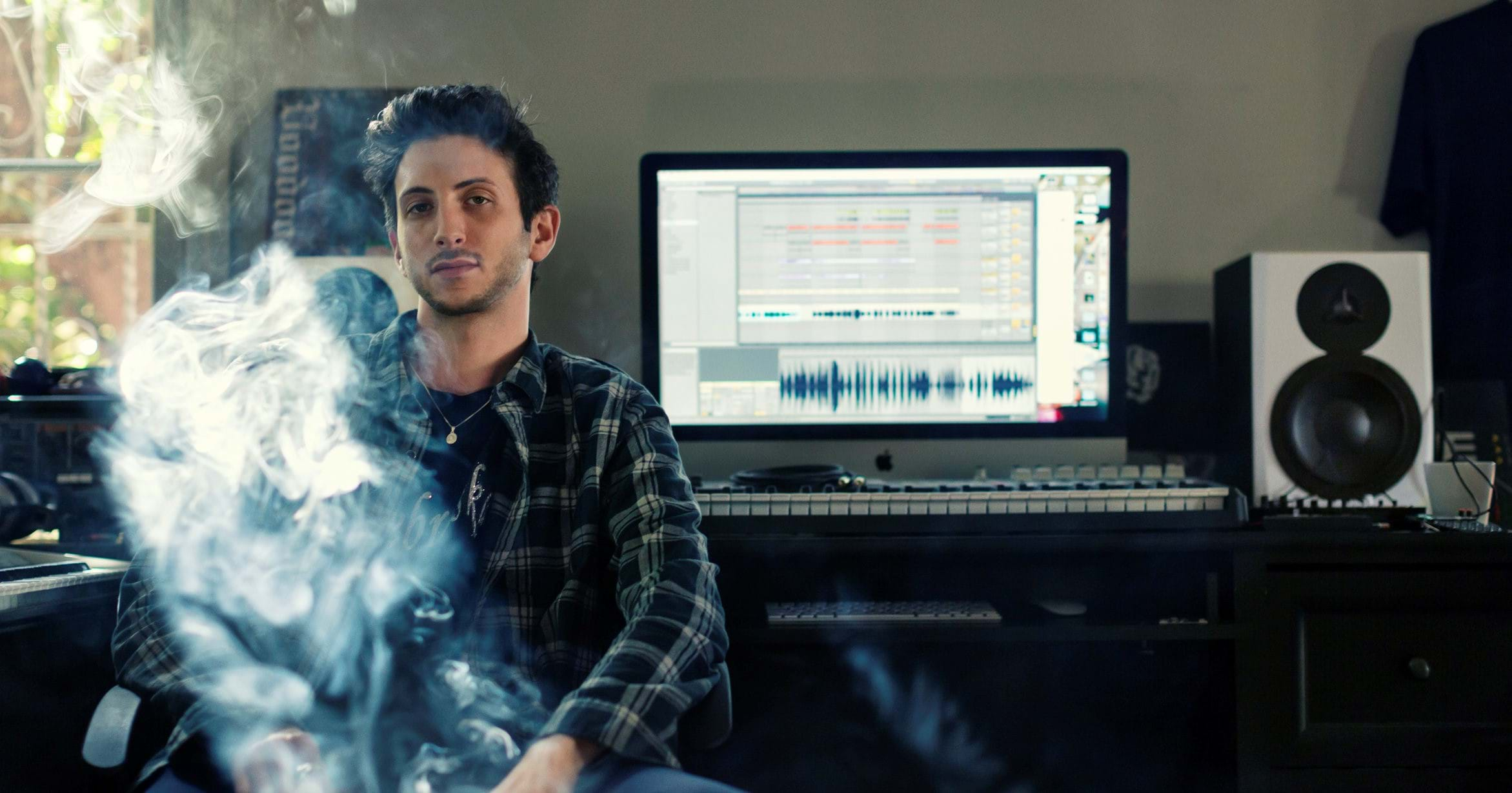 Making Monitors Matter
Shlohmo used to mix on smaller studio monitors, but has recently added our LYD 8 speakers, which feature an 8" driver and 1" tweeter, to his studio. "Now, when I am listening to previous productions on the LYD 8 monitors, it's just a whole new world. For example, yesterday I listened to a track and there was just this whole mid and high section that was not there before!
Generally speaking about monitor volume, I like to work at a fairly loud volume when I am putting together ideas and tracks, but when it's time to actually mix, I usually turn down the volume. To me at least, mixing at loud volumes can become confusing; as you can't really tell which part is louder if everything is loud. The key is to listen at lower volumes when mixing."
Production Workflow
So, how about the studio workflow – how long would it typically take to come from an idea to a finalized track? "I am usually very slow. The initial inception of a basic idea will typically be a good two-day process. And then it may just be sitting there for like a month. So I often work on many different tracks simultaneously – maybe 5 tracks at a time and when I do get back an listen to that first idea, I might hear something else that sparks new inspiration and I will pick it up from there. For instance, on my album Dark Red, some of the songs were in progress for a year before I was comfortable with them. But hey, sometimes that's necessary and often a song will change shape during this process and the end result will be better."

Mixing at loud volumes can become confusing, as you can't really tell which part is louder if everything is loud. The key is to listen at lower volumes when mixing.
Shlohmo,
Remixing with Passion
Shlohmo is also working on remixing other artists frequently, and it turns out that these projects can take two fundamentally different directions. "Often I approach a remix in the same way I would with any other track – by starting to find a weird element that I can use to build from. But apart from that I always make sure to flip the bass line, changing it to something completely different from the original. The end result can either be like 'just' a remix of a song, or it could almost become a new song of my own, but with these elements from another original recording blended in."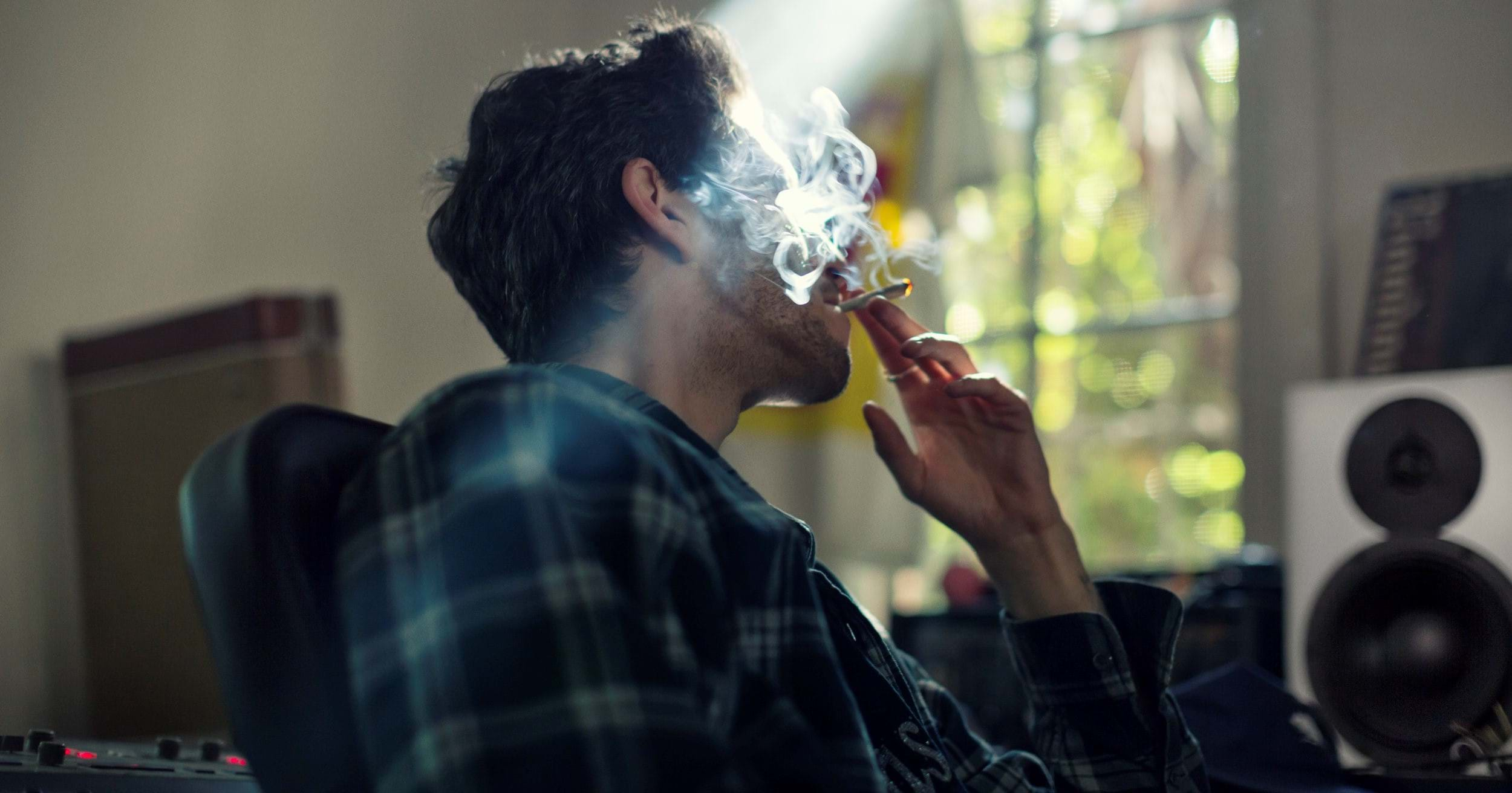 The Lone Wolf Producer
We also wanted to know how Shlohmo copes with the long studio hours on his own. "I really enjoy working on my own. I go out of course and I like to hang with people, but I also really need to have this time alone. I even turn down gigs and is not touring as much as I could do if I wanted to. So, yeah I think it's important for my mental health, as well as my productivity to have a lot of time on my own."
Best Producer Advice. Do It for YOU!
In the Studio Masters series, we always ask what their best advice would be to the young and upcoming producers out there. "My best advice would be to do it for yourself. Don't think about other people's opinion or expectations to what they think you are producing. Just try to shut everything out as best you can, because that has always given me the best results. And even while it may not always sound like the best results, the placebo effect that it gives you to have that kind of personal connection with your music will stay with you much longer. I mean, if I put on a 10 year old track, I can remember if I felt good about it. I can't remember – and don't care – If other people also felt good about it back then."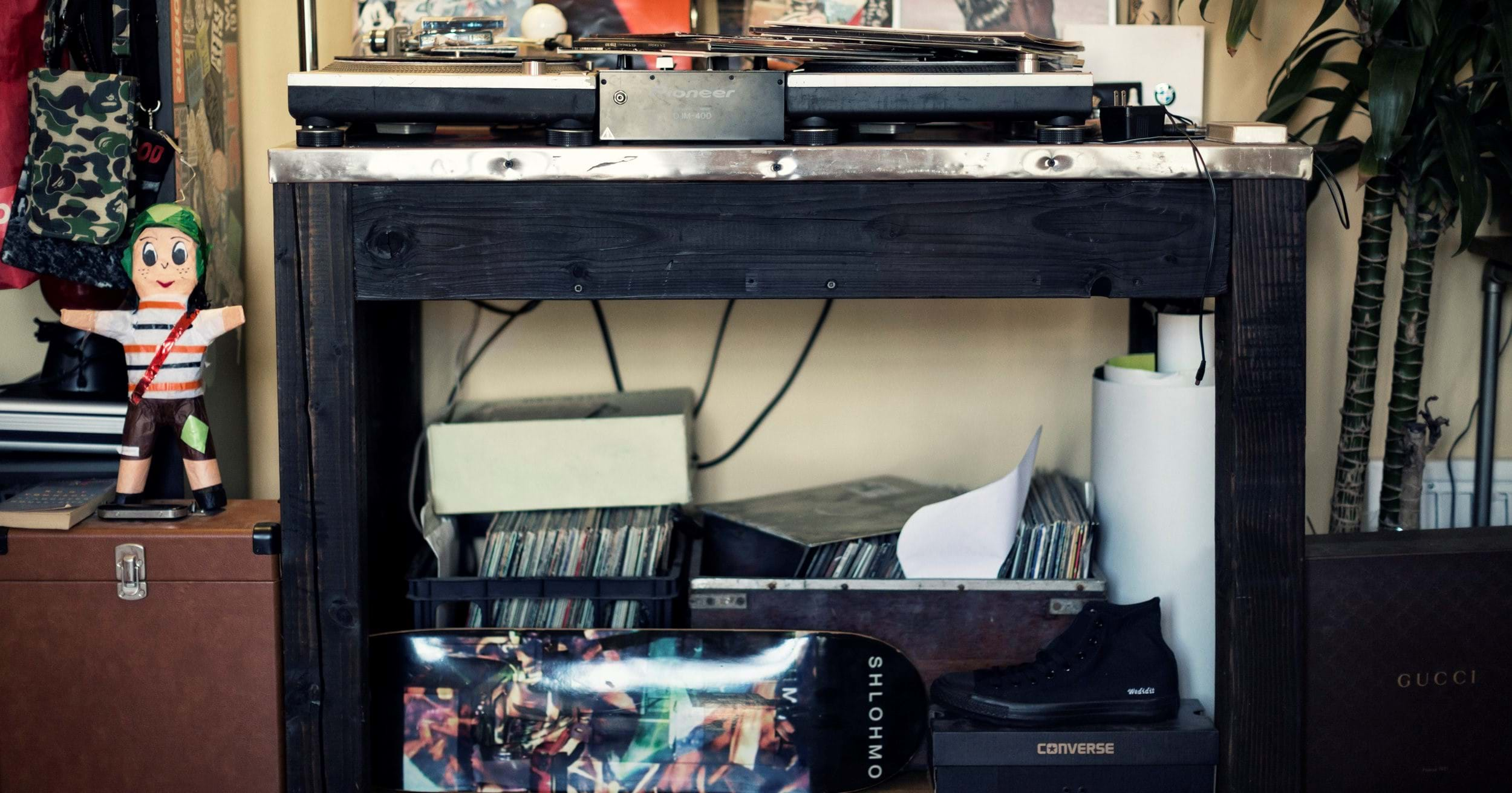 Lo-Fi by Need or by Choice
Lo-fi sound is part of Shlohmo's universe, but why is that? "I am only in the last two years or so becoming aware of gear in terms of realizing that it can make a real difference. I used to think that I have always been lo-fi because I wanted to be, but then I realized it was just because I didn't have a choice. I am not saying that money can buy you better gear and therefore your music will be better, but I think it was important for me to make music on poor gear for a long time to really understand the value of having great gear. Learning how to compensate for shitty gear and finding ways to use it to my advantage has been an important process. Now, I can intentionally make things sound 'bad' when I want to, but it's a conscious choice that I get to make.
Also, you should always keep in mind that your tracks will often be played back through some crappy laptop speakers or budget headphones. That's why I always put my tracks through the 'laptop test'. Of course your music should sound great on real studio monitors, but it should also sound good just coming from a laptop or in the car.
Another thing about gear and sound quality is that you should never allow it to become more important than the music. When I DJ, I sometimes use 92kb mp3 files. Sure, if I can find it in 320kb, I'll use it, but if I really love a song and it's only available in 92kb, that's not going to stop me from playing it!"

I used to think that I have always been lo-fi because I wanted to be, but then I realized it was just because I didn't have a choice.
Shlohmo,
Gear Talk
Shlohmo got an old Roland Jupiter 6 synth from his dad that he uses on most tracks, and at the time of writing, he is very much into a pocket synth by Teenage Engineering that he hooks up with a Korg Monotron Delay, but overall he's not really a gear collector. "No, but it's also because of money. You know, I turned down a lot of tours and never wanted to sign with a big record deal. But I finally did a publishing deal last year and I am beginning to have more funds that I can assign for gear. My first purchase is going to be to get all of the Suzuki Omnichords."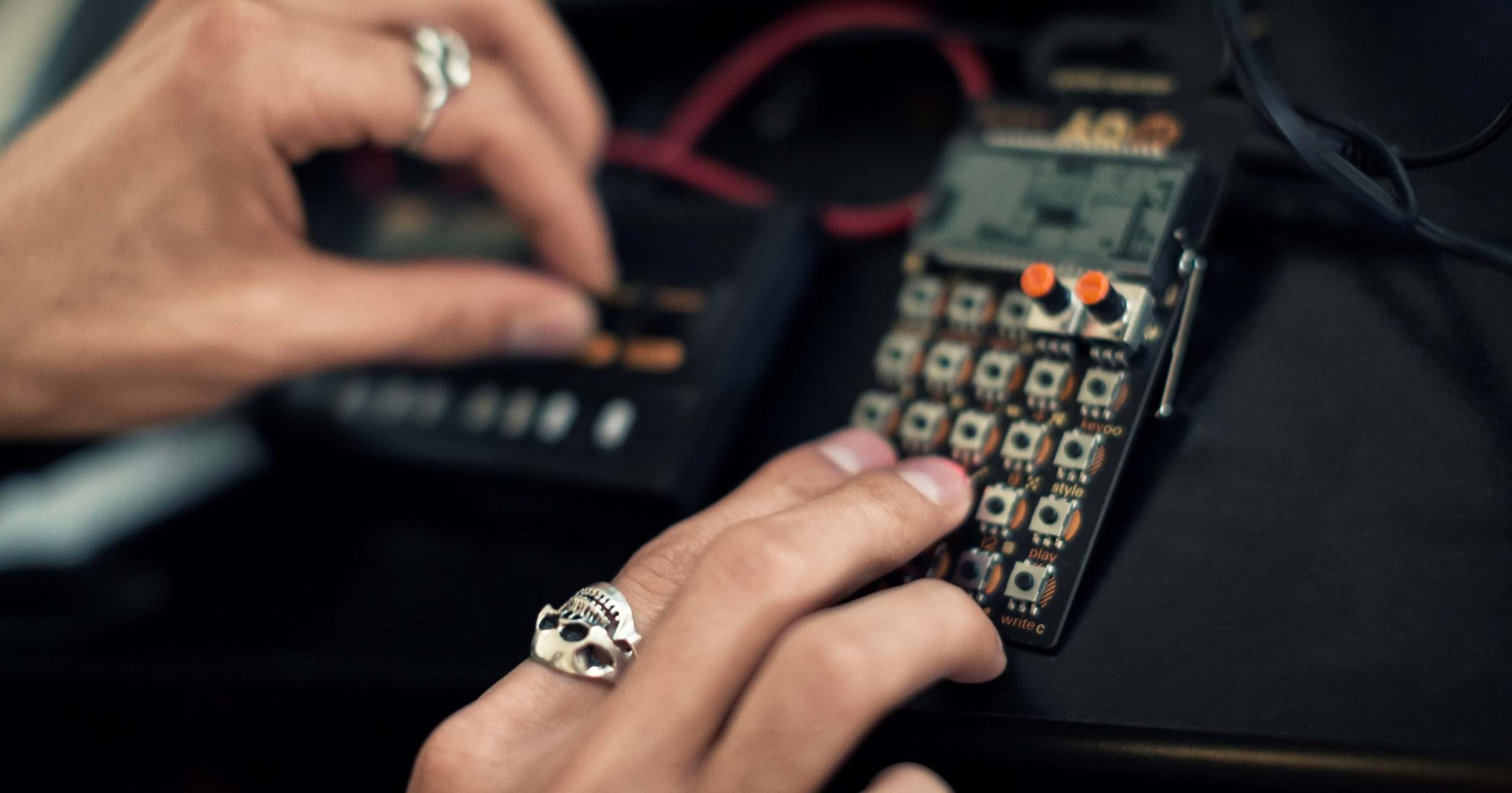 Best Career Advice. Don't Be Conventional!
Apart from an advice from a producer point of view, we also asked Shlohmo what he would advice in term of a career in electronic music. "Well, my best advice for someone trying to build a name and a career in electronic music would probably be not to be scared. And to be as weird as you can possibly be. Whatever you do, don't be conventional! There's just no room for another mask. I want to see people who enjoy making music for themselves. And actually, I think there is a huge opening right now for people who are actually caring, driven and honest with their music.
And don't rely on the 'Instagram template' as the platform to become famous – in the end it is not what is going to matter. The stuff that lasts and leaves a legacy is honest and important music, because 10 or 20 years form now people are going to care what your mask looks like now."

Don't be scared. Be as weird as you can and whatever you do, don't be conventional!
Shlohmo,
Well, we had a great time, hanging with Shlohmo in his studio. And it actually turns out that we share a lot of the same values in terms of putting the music first. Our primary goal is simply to deliver the tools that allows artists to create mixes of their music that will ensure that listeners will hear their music just the way they intended.
So, with that in mind, let's wrap this story up and Shlohmo out!
Sign up to get more great articles
Nothing compares to the satisfaction of knowing – for a fact – that something is as good as it gets