UK Producer Matt Robertson Relies on Dynaudio.
Matt Robertson has worked along side some of the UK's most talented producers and composers, on films like Hot Fuzz and Quantum of Solace with David Arnold to Alien Vs Predator for Harald Kloser and more recently Kick Ass with Marius de Vries. He has written the music for over 100 TV commercials and engineered two albums this year for two of the most forward looking jazz musicians in London, Ivo Neame and Jasper Hoiby (Phronesis).
Having studied Music and Sound Recording at the University of Surrey, graduating with a First Class degree in 2000, Matt further learned his trade from one of the best in the business, Prodigy producer Neil Mclellan. "We started a production company in London that was merged into The Lodge production facility based in New York in 2004, and in that time Neil taught me pretty much everything I know about making records!"
Arranging for live shows, Matt has worked on the brass arrangements for Bjork's 18-month Volta world tour, string arrangements for Bat for Lashes, and orchestral charts for Kanye West's 'Glow in the Dark' tour with Rosie Danvers.
Matt now has a facility in the UK from which he produces, arranges and orchestrates for projects from all over the world. "My setup is relatively small but everything is very carefully chosen. I have enough gear to do everything I need to do, but it would also all fit in a pretty small number of flight cases so I can go to wherever I need to go"
"That's a big plus for me with the Dynaudio Acoustics BM 6A's. They sound much bigger than they physically are, and that is very important both for critical mixing and for allowing you to turn them up a bit to impress the clients. I recently added a BM 9S sub which helps tremendously in that department. Getting that really low information across cleanly is important so you know what's going on down there but also to create a good vibe in the control room when you need to. There's also something about 6 inch drivers that I like, maybe something to do with the crossover position as well, but the tonal balance just seems to work. And the relatively small size means they can fit in and around my small setup so I get them in the sweet spot and they don't get in the way of anything else"
"I have been through lots of monitors from lots of different companies, and although many manufacturers now make really good compact speakers, for me nothing touched the BM 6A for size vs. performance. I have them on some custom made stands which my acoustician recommended, and the combination is just fabulous. I also took the slightly controversial decision to put the sub on a decent stand. That way there seem to be less time of arrival errors as I move my head around than there are when I had it on the floor"
Matt is currently working on a film project with Marius de Vries which should hit the cinemas early 2011. "The BM 6A's are crucial to my workflow. They are on all day every day!"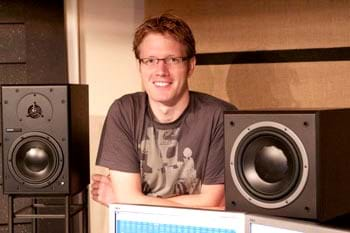 Sign up to get more great articles
Nothing compares to the satisfaction of knowing – for a fact – that something is as good as it gets