A state-of-the-art DSP delivers powerful sound
The Xeo 2 is fitted with a state-of-the-art DSP (digital sound processing) that relies on a series of complex algorithms. The DSP, together with optimized sound power and Adaptive Bass, optimize the bass output against the amplifier load, which enables the Xeo 2 to extend deeper in the bass. But that's not the whole story, as the algorithms play a vital part according to Michael R. Böwadt:
"The DSP uses these algorithms to make the Xeo 2 sound 'bigger' than it actually is. The advanced amplifier and DSP allow the Xeo 2 to play lower frequencies than you would expect from a speaker its size."
What's more, it uses an optimized phase linear FIR filter:"We haven't added any cheap bass-boost solutions. It is much more complicated than playing around with the EQ," Michael continues.
These functionalities create a bass that's capable of filling your room, even larger ones, with a powerful sound experience, as the Xeo 2 can extend all the way down to 40 Hz – which is uncommon for similar systems.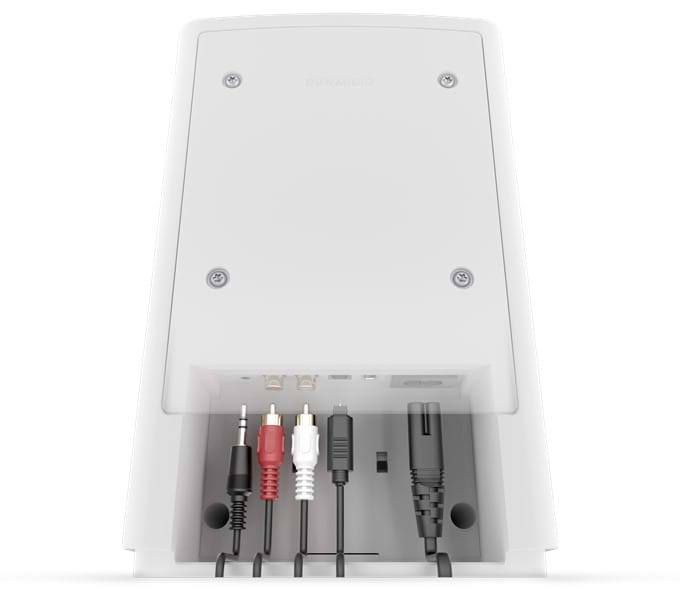 A variety of inputs: bluetooth, Toslink and much more
You have a variety of inputs available, as the compact Xeo 2 has been fitted with analog (RCA, Minijack), digital (Toslink), and wireless (Bluetooth, Hub, and Connect) inputs. This means that you, as an example, can connect your Xeo 2 directly to your television for a truly immersive movie experience.
"The Xeo 2 actually works well when placed on either side of a television connected directly through the optical input – and when you feel like listening to your music instead of the TV, you simply stream it via Bluetooth to the Xeo 2," says Michael R. Böwadt.
In fact, when connected through the optical input you get a digital, 192 kHz / 24-bit input that creates an impressive miniature home theater feel from this compact sound system. You can also add a Connect or Hub for a lossless, robust, and reliable signal, making it possible to have three different inputs at the same time: the TV, Bluetooth, and Connect/Hub.
Together with either the Hub or the Connect, the Xeo 2 can be integrated into a multi-room system with the other speakers in the Xeo series or the Focus XD that fill your entire home with music, giving you endless opportunities for a convenient, yet powerful audio experience.
Understated, clean Danish design
Aesthetically speaking, the Xeo 2 has a typically understated and clean Danish look and feel and is available in either satin white or satin black. The cabinet is built in a composite mold with an aluminium baffle that together create a very rigid design that's vibration free, which makes for a better music experience.
Want to test them our in real life? Click here to find a dealer near you.
Sign up to get more great articles
Nothing compares to the satisfaction of knowing – for a fact – that something is as good as it gets