If you've ever had a traditional hi-fi system with passive speakers (and who among us hasn't?), you'll know what it's like when you come to upgrade one of the components to something better.
If it's part of your source, you have to make sure it plays nicely with all the other components – including the speakers. If it's cables or interconnects, you have to make sure you get the right length, shop around for something with the right characteristics and probably agonise over the differences you might-or-might-not be able to hear.
If it's speakers, you might be utterly smitten by the sound of a new pair – but hate how they look. Or vice-versa. And, of course, you have to make sure they work with the rest of your system, in your own room, after running in – which can take a few days. Do you really want to wait that long?
Wouldn't it be nice if you could upgrade your speakers without actually having to upgrade them?
You can.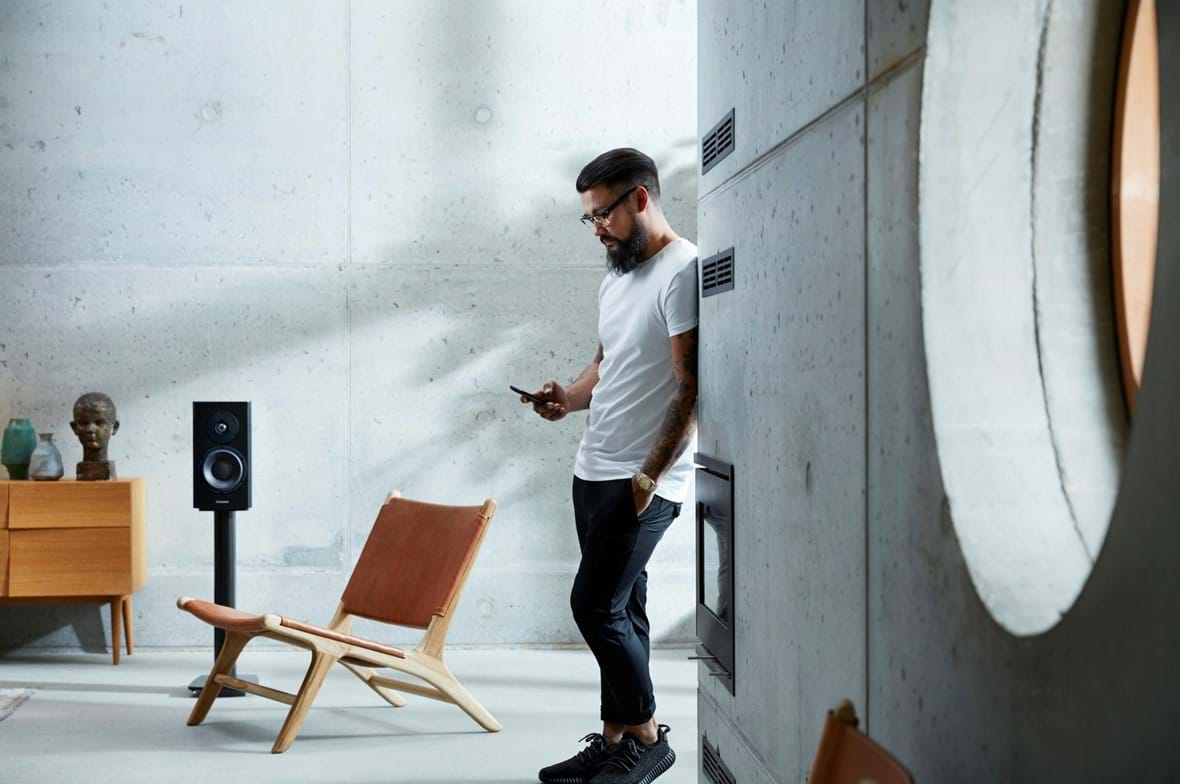 The 2017 Focus XD has firmware updates
Ever since the first-ever high-end active Focus XD speaker came out, our engineers have been working behind the scenes to improve its performance. And that doesn't mean they've been changing drivers and tweaking cabinet bracing, or making minor improvements that you'll feel obliged to pay out for. No, their improvements have been entirely software-based.
That's because the Focus XD keeps the signal in the digital domain for as long as possible – so if you're using a digital source, that means it's pure digital from the source right to the driver. That gave us a lot of scope to experiment with digital crossovers, room-correction technology and more. All in software.
The updated, upgraded firmware is already on-board if you buy one of the new speakers (you can read about them here) in one of the new finishes. But if you have an older pair of Focus XDs, you don't need to get rid of them and buy a new set of physical speakers.
From this month you can download the update and install it onto your existing speakers. Free of charge.
That means you get improved quality, more fine-tuning when it comes to room correction, and all the other tweaks and fettles our engineers have applied – without having to set up and run-in a new pair of speakers. Just install it and off you go. The same as you've always done. All you need is a source.
What's going on inside?
Running the show is cutting-edge digital processing technology capable of handling full-fat, 24-bit/192kHz hi-res files.
All the speakers in the range share common controls and connections – so if you want to mix-and-match, you can. There's digital coaxial in and out, plus analogue input (with adjustable sensitivity), as well as a seven-position control for fine-tuning the speakers' placement in your room.
And if you add the Dynaudio Connect box, you get digital optical, another digital coaxial and RCA and 3.5mm analogue inputs – plus mini-USB (which can stream 24-bit/96kHz files), aptX Bluetooth and Wi-Fi connectivity (including DLNA).
Sign up to get more great articles
Nothing compares to the satisfaction of knowing – for a fact – that something is as good as it gets