Core Sub
Core Sub is the ideal low-frequency extension for all speakers in the Core studio monitor range.
And when we say 'low', we mean it: it digs down with a flat response to 15Hz with a 6dB roll-off at 13.5Hz. There's no meaningful low frequency that it won't reproduce utterly faithfully.
Combine its handcrafted cabinet – made at our factory in Denmark – with four of our latest low-frequency drive units and 1000W of Pascal class-D amplification, and you get a subwoofer worthy of supporting the ground-breaking Core speakers.
Power? You've got it…
Core Sub uses the same DSP engine found in all the Core speakers, which means you can customise its response based on where it's placed in the room. Its analogue and AES digital inputs let you calibrate it to work in any configuration from single-channel extension through 2.1-channel bass management and on to a theatrical LFE channel with the headroom to really nail it. Put your Cores in HP and you're ready to go.
By using the same electronic platform as the rest of the Core products, we can ensure that the Sub's behaviourand tonality are identical to the monitors – which means you get a totally integrated system, not a separate product just for bass.
It's physically integrated, too. The design makes it possible to stack more units and combine it with other Core products. You can even use the VESA mount if you want to get it up on the wall. And it's mix-and-match. For example: add two Subs per side with a Core 47 in between, regulate the dB and all is aligned – both physically and sonically. (Although we can't promise your gold discs will stay in the same place on the wall.)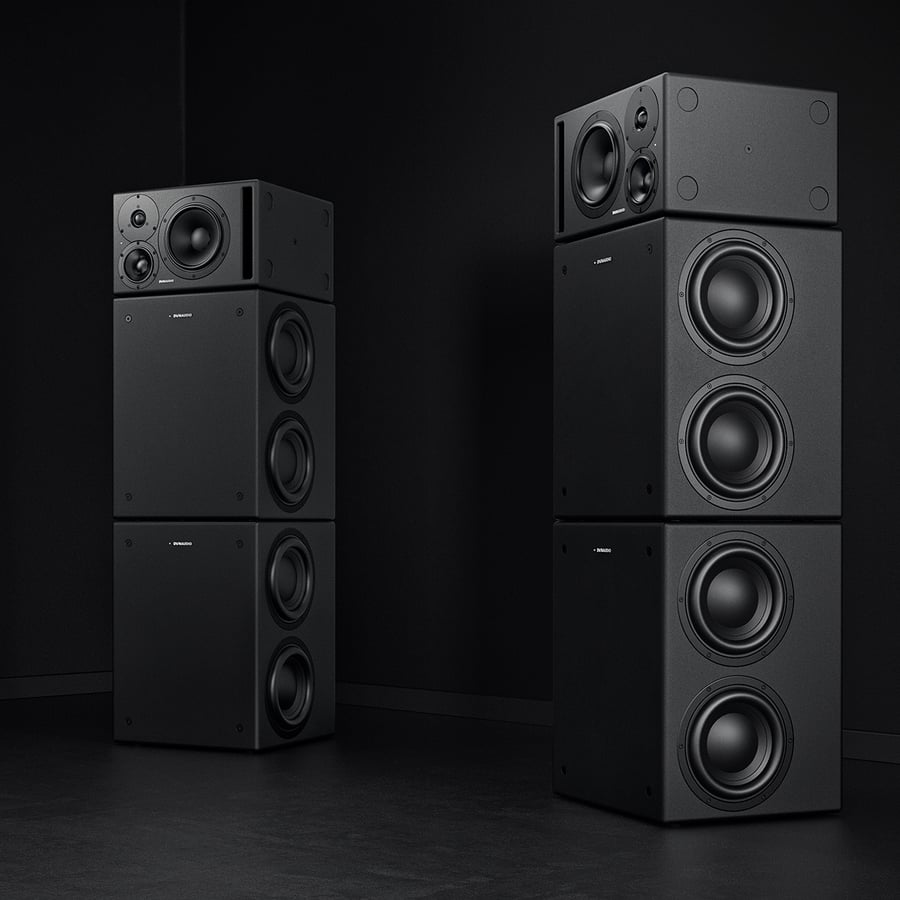 Finesse? That too…
Each Sub delivers 120dB, integrating perfectly with the power on offer from the rest of the Core series. It's versatile, too – it's digital and analogue, you can stack up to three together and on the top there are indentations to perfectly align any core monitors.
Core Sub has four 9in side-firing handmade Dynaudio hybrid woofers – Dynaudio's new MSP+ Hybrid Drive units – which are made primarily from aluminium for stiffness, and are designed specifically for subwoofers. To counter ringing from the aluminium, it utilises a dual-action damping system that combines paper dampening on the back of the driver and Dynaudio's own Magnesium Silicate Polymer material in a dampening cap on the front, ensuring the best performance. This driver is an improved version of the one you find in the highly acclaimed 18s woofer. The quest was simple; make the best bass driver possible.
Make no mistake: Core Sub isn't just another boom-box. This is a highly accurate low-frequency delivery system.
Get ready to be moved. Literally.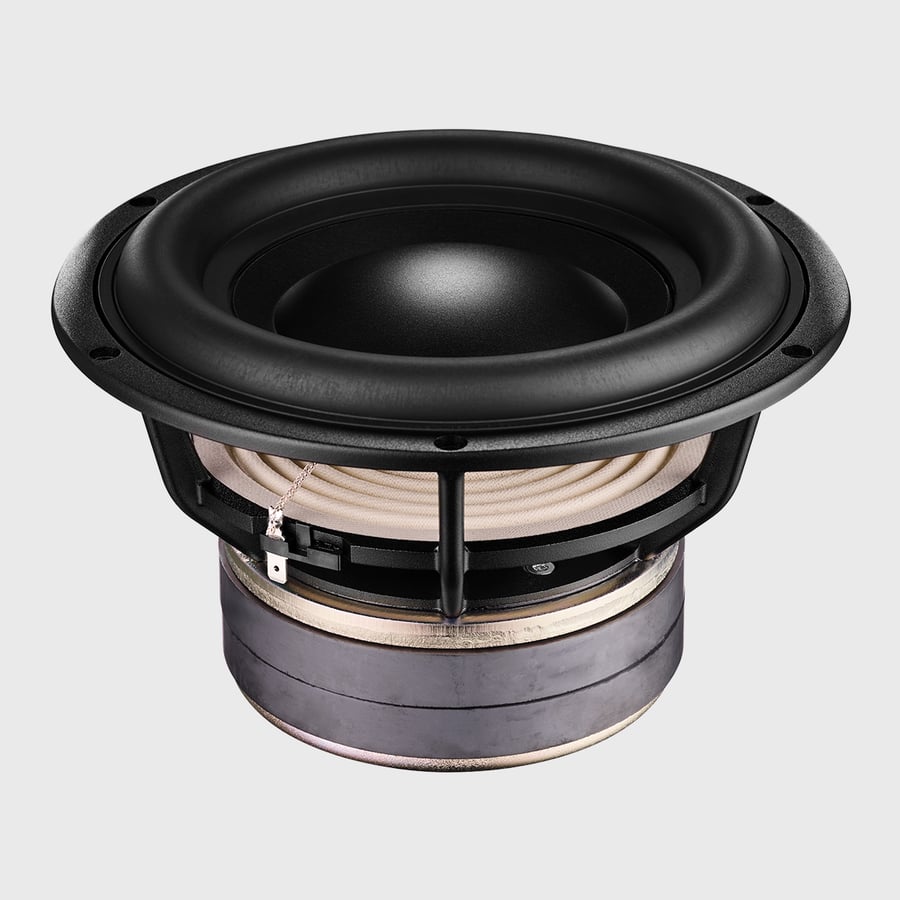 Designed, developed, tested and made in Denmark. All the drivers are hand-made at Dynaudio HQ, and each speaker is individually calibrated before it leaves our factory.
Core Sub uses new Dynaudio MSP+ Hybrid Drive units – made with MSP and aluminium – designed specifically for subwoofers. Dual-action damping ensures tight, controlled bass.
Uses the same DSP engine you'll find in the rest of the Core range – so you can customise its response to its position in the room for seamless consistency and integration.
Use as many Subs as you need with your Core speakers – stack them in neat arrays or even mount them on walls. Core Sub aligns physically and electronically with your studio.
Status

Current

Segment

Pro

Range

Core

Type

Subwoofers

Analog inputs

1x balanced XLR

Digital inputs

1x AES3 XLR (no sample rate conversion), BNC Word Clock

Digital outputs

1x AES XLR pass-through

Amplifier Power (Watt)

2x 500W

AC Power Input

100-120 V/200-240 V 50/60 Hz

Auto on/off

Yes

Max Stand-by Power Consumption (Watt)

0,5

Lower Cutoff (Hz @85 dB +/- 3 dB)

15

Upper Cutoff (Hz @ 85dB +/- 3 dB)

165

Lower Cutoff Dynamic (Hz @ -6 dB)

13,5

Upper Cutoff Dynamic (Hz @ -6 dB)

200

MAX SPL (dB)

120

Box Principle

Sealed

Woofer

4x 9in MSP Hybrid Drive

Weight kg

44,2

Weight lbs

97,4

Width mm

390

Height mm

365

Depth mm

514

Width inches

15 3/8

Height inches

14 3/8

Depth inches

20 2/8

Speakers per packaged box

1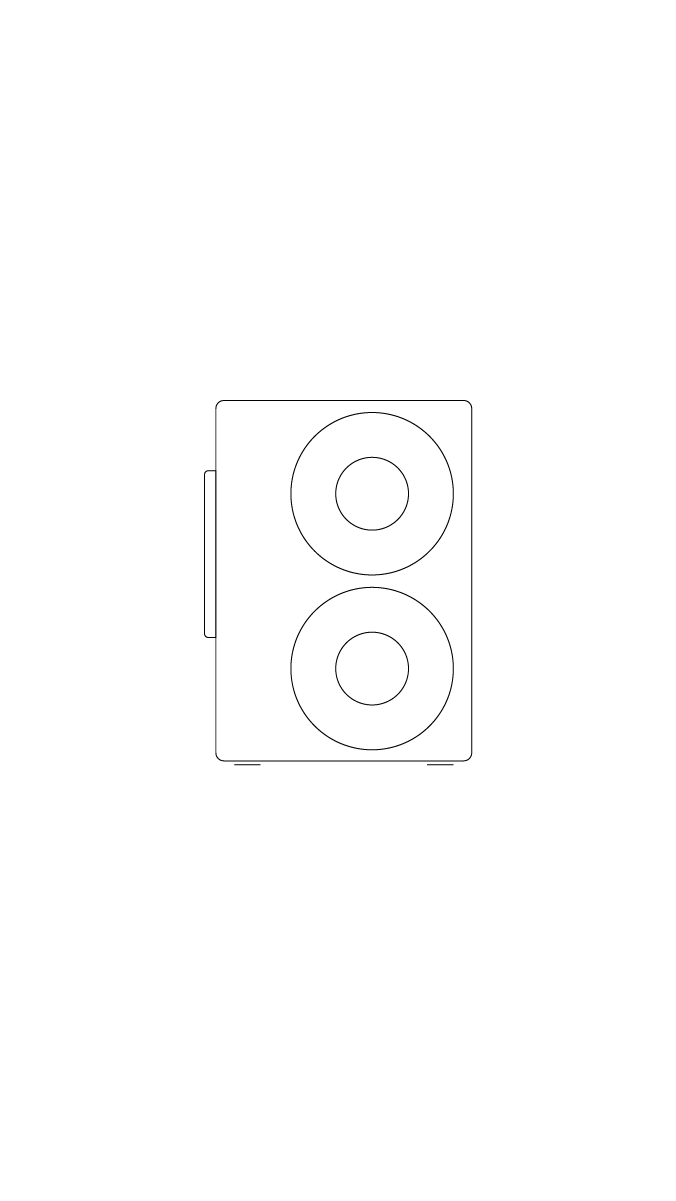 Find a dealer
Find your nearest Dynaudio dealer and pay them a visit today, or sign up for a listening session.
Ask for our Dynaudio specialist
{specialistName}
{description}
Status:

Segment:

Range:

Type:

Analog inputs:

Digital inputs:

Digital outputs:

Amplifier Power (Watt):

AC Power Input:

Auto on/off:

Max Stand-by Power Consumption (Watt):

Lower Cutoff (Hz @85 dB +/- 3 dB):

Upper Cutoff (Hz @ 85dB +/- 3 dB):

Lower Cutoff Dynamic (Hz @ -6 dB):

Upper Cutoff Dynamic (Hz @ -6 dB):

MAX SPL (dB):

Box Principle:

Woofer:

Weight kg:

Weight lbs:

Width mm:

Height mm:

Depth mm :

Width inches:

Height inches:

Depth inches:

Speakers per packaged box: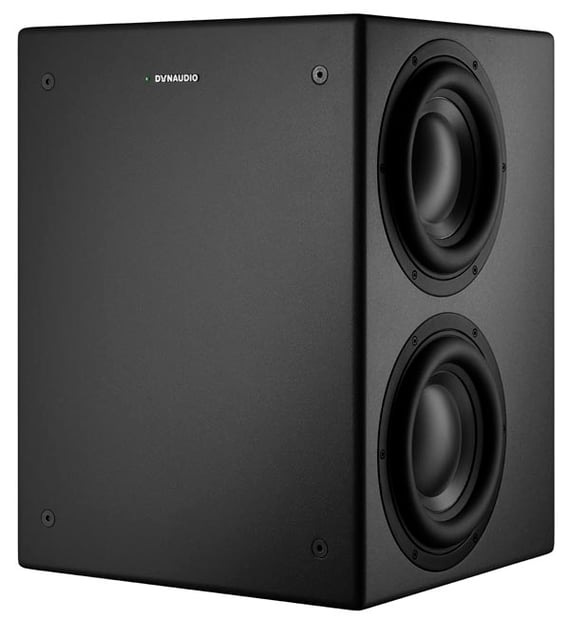 Core SUB

Current

Pro

Core

Subwoofers

1x balanced XLR

1x AES3 XLR (no sample rate conversion), BNC Word Clock

1x AES XLR pass-through

2x 500W

100-120 V/200-240 V 50/60 Hz

Yes

0,5

15

165

13,5

200

120

Sealed

4x 9in MSP Hybrid Drive

44,2

97,4

390

365

514

15 3/8

14 3/8

20 2/8

1