Emit 30
Emit 30 is perfect for larger stereo systems or compact multi-channel home cinema set-ups in medium to large rooms.
If you're looking for a little more power from your system, you've found it. Emit 30 is a compact two-and-a-half-way speaker designed to impress whether it's used as a stand-alone stereo pair or as part of a 5.1-channel (or more) home cinema.
Like its little brother, Emit 10, it uses 14cm MSP woofers similar to those used in the Evoke series – this time doubled-up in each speaker for more low-frequency muscle, plus midrange clarity and punch. MSP stands for Magnesium Silicate Polymer. It's a material we developed in-house for our woofer cones, and have used for decades – including on our most-lauded high-end models. MSP provides precisely the right combination of lightness, stiffness and damping (one we've tuned and honed over the years) to deliver control and outright power exactly where it's needed.
Premium woofer technology
The cones are moulded in one piece; we don't use a separate glued dust-cap. The little balance ribs around the edge of the centre are bonded directly to the voice-coil behind it, making the whole motor assembly one solid piece.
Using fewer moving parts gives our engineers fine control over how the speaker moves – which, in turn, means fine control over how it performs. You'll hear it as strong, tight bass and startlingly clear vocals, guitars and more. Even at eyebrow-raising volume.
Each woofer is powered by a dual-stacked strontium carbonite Ferrite+ ceramic magnet system. Using two magnets means we can more effectively direct where the magnetic energy goes – it's a lesson we learned developing the award-winning Special Forty anniversary series, and it's thrilling to be able to use it in our entry-level family.
The target for all that flux is the voice-coil. We use aluminium windings in Emit 30. Aluminium is light (which minimises inertia on the cone's back-and-forth movement), and because it's lighter than copper wire, it means we can pack more windings on to the two-layer glass-fibre former. More windings equals more power, and greater control over fine movement. There's a twist, though (please pardon the pun): we've coated the aluminium wire in a very thin copper coating to further increase the control the amplifier has on the voice-coil. More force with only a fractional weight gain: win-win.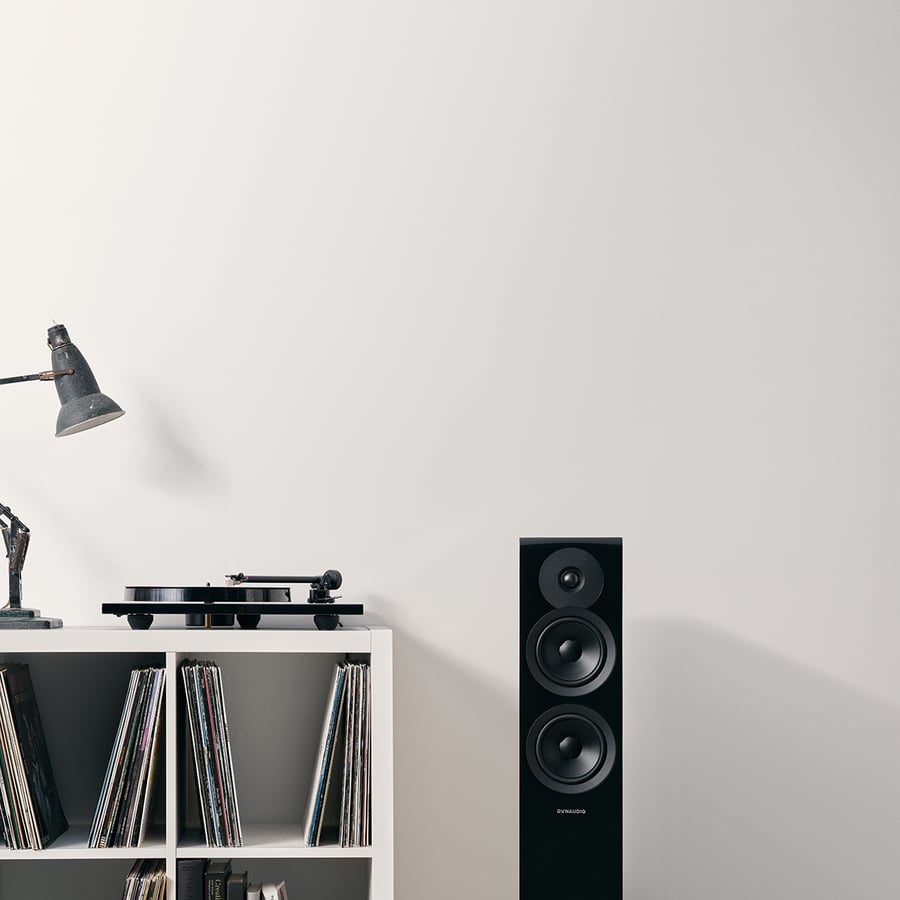 High-performance Cerotar tweeter
While the twin 14cm mid/bass units deal with the… well, midrange and bass… the upper frequencies are handled by the tweeter.
Emit might be an 'entry-level' speaker, but we certainly haven't used any old unit off the shelf; witness the incredible Cerotar tweeter (the same as we use in Evoke). It's based on the Esotar Forty anniversary tweeter and the Esotar Pro found in our Core studio reference speakers, and must be heard to be believed.
The 28mm coated soft-dome diaphragm is backed up by the clever Hexis inner dome. The playing surface has been specifically engineered to produce ultra-clear, ultra-detailed high-frequencies without breakup (even at high volumes), while the Hexis smooths the airflow behind it to reduces unwanted resonances. An aluminium voice-coil and airflow magnet system provide the power. Cerotar is designed for high performance without listener fatigue – perfect if you're given to long listening sessions (and you're music lovers, so we bet you are).
The bass-port on the back panel has dual flares (one inside; one outside), and has been tuned to minimise unwanted 'chuffing'. It's supplied with foam inserts that can be used to optimise performance for the speaker's position relative to the wall.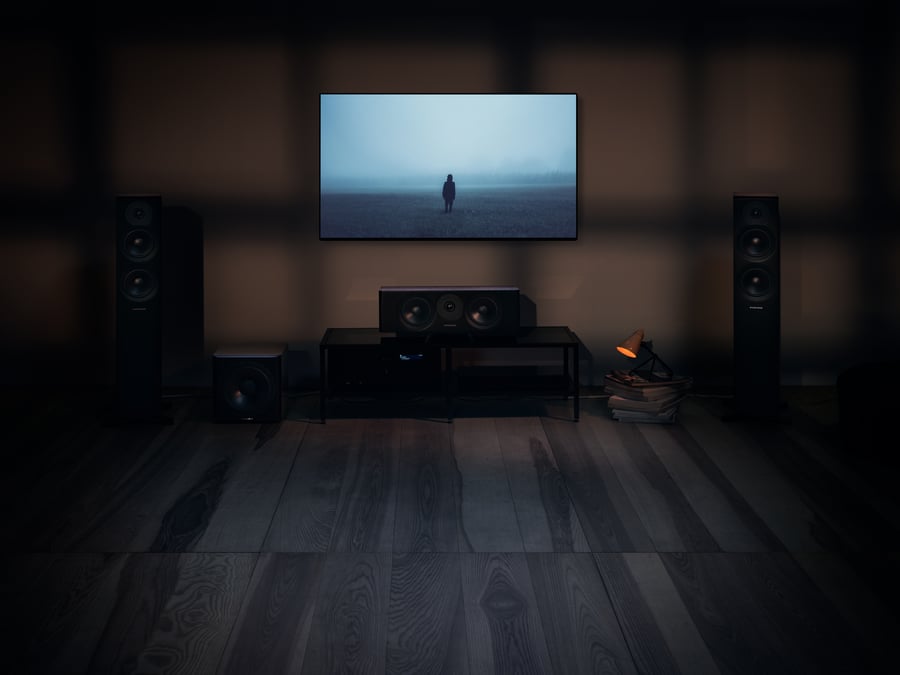 Danish-designed cabinetry
Emit 30's cabinets are made from 18mm MDF to provide a solid, stable platform for the drivers to do their work. They're internally damped with polyester fibre, measured down to the gram for exactly the right amount of resonance suppression.
On the outside, you can choose from three custom laminate finishes: Black, White or Walnut. They've been chosen to complement any room, in any configuration (so if you're mixing and matching Emit speakers in a home cinema system, you can make them stand out or blend in as you want).
Emit 30: powerful floorstander performance in a compact package. If you want to take your listening to the next level, they'll really make your collection sing.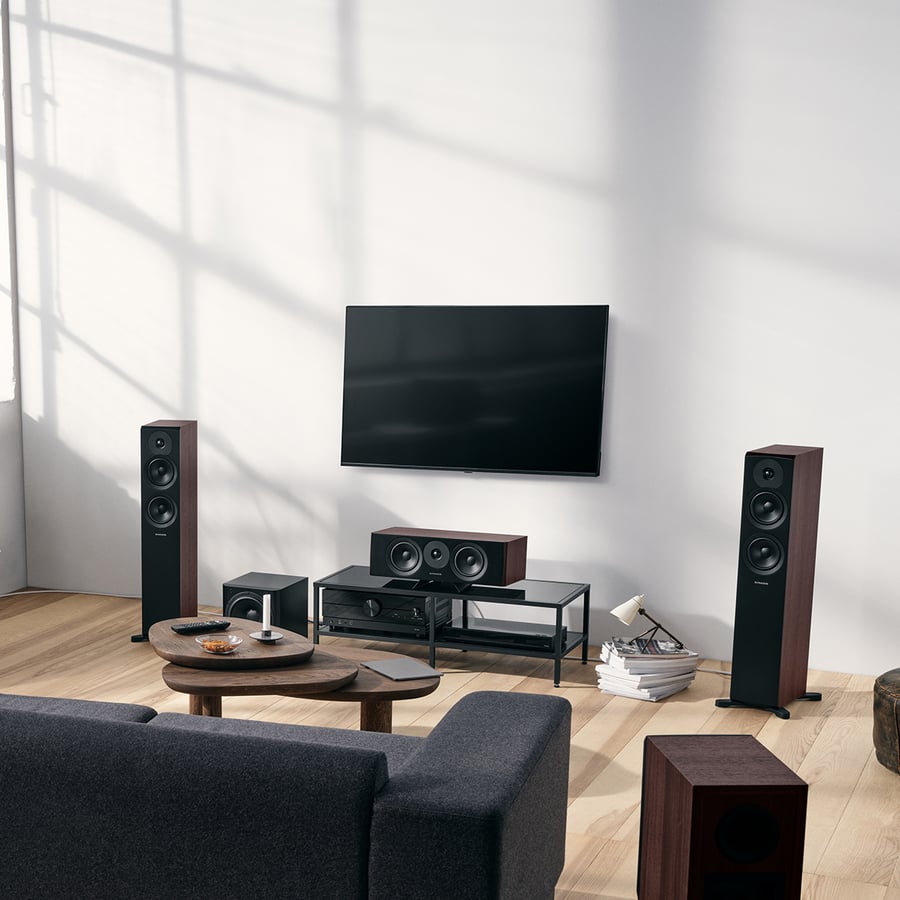 Designed and engineered in Denmark
---
The entire Emit family has been put through its paces in our world-class Jupiter measuring facility at Dynaudio Labs. We treat it exactly the same as we do every other speaker in our range: no stone left unturned.
Emit uses the highly regarded Cerotar tweeter from our Evoke series. It's a high-quality high-frequency driver inspired by our top-end Confidence and Heritage Special speakers, and includes the innovative resonance-defeating Hexis inner dome.
Each speaker in the Emit range is designed to fit with modern lifestyles and interiors. Clean lines, simple finishes and minimalist Scandinavian looks – whether you're listening in stereo or have a full multi-channel system.
Status

Current

Segment

Home

Range

Emit

Type

Floorstand

Sensitivity (dB @ 2.83V/1m)

88

Lower Cutoff (Hz @ +/- 3 dB)

55

Upper Cutoff (kHz @ +/- 3 dB)

25

Lower Cutoff (Hz @ -6 dB)

39

Upper Cutoff (kHz @ -6 dB)

35

Box Principle

Bass reflex rear double flared port

Crossover

2.5-way

Crossover Frequency (Hz)

(1000)/3500 Hz

Crossover Topology

1nd order tweeter / 2nd order woofer

Tweeter

28mm Cerotar soft dome with Hexis

Midrange/Woofer

14 cm MSP

Woofer

14 cm MSP

Weight kg

15,5

Weight lbs

34 1/8

Width mm

170

Height mm

900

Depth mm

272

Width inches

6 6/8

Height inches

35 3/8

Depth inches

10 6/8

Width mm incl. feet/grill

268

Height mm incl. feet/grill

947

Depth mm incl. feet/grill

335

Width inches incl. feet/grill

10 4/8

Height inches incl. feet/grill

37 2/8

Depth inches incl. feet/grill

13 2/8

Packaged Width mm

1049

Packaged Height mm

318

Packaged Depth mm

444

Packaged weight kg

20,4

Speakers per packaged box

1

Grille

Black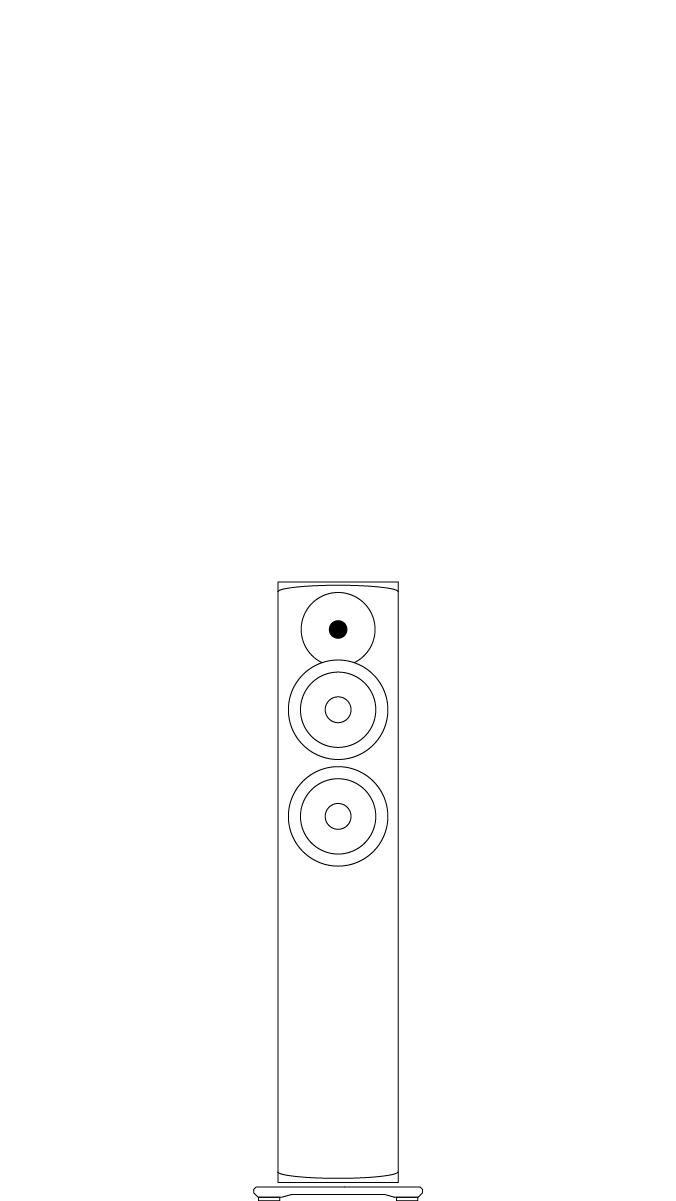 Audiograde's Andrew Simpson summarises his experience with Emit 30 so positively, that we felt the need to include his summary in its entirety.

"While the Emit 30 may seem entry level for this brand at the price, don't be fooled into thinking this is an entry-level sounding speaker. Thanks to the trickle down tech that's been harvested from Dynaudio's more senior offerings, understated looks and no-nonsense design, what you get here is decades of knowhow brought together into an affordable package. These speakers sound dynamic, open and well balanced, making for an exceptional all-rounder at this price point."

Read what else Andrew has to say about Emit 30 via the button below.
Polish magazine Hi-Fi Class checked out Emit 30, with Arkadiusz Ogrodnik awarding it a "recommended" seal of approval. You can read the review in its entirety (po polsku or using your browser's translation tool) via the button below.

"(...) they are able to create such an atmosphere that it's difficult to tear oneself away from them. The music coming out of them combines characteristics of both standmounters and floorstanding speakers. The bass is extended with no lack of weight, while the midrange and treble are characterised by a punctuality and precision reminiscent of high-end monitors. In short, a recommendation!"
Emit 30 impresses the good folks at Audio Test, bringing home at "90% - excellent" seal of approval. You can read the full review (auf Deutsch or using your browser's translator tool) via the button below.

"To be honest, we were initially a little surprised by the hefty performance of this speaker in regards to its rather timid appearance. But then we remembered which manufacturer we were dealing with and just had to salute this speaker's absolutely outstanding musicality."
"Sometimes size does matter. The all-new Confidence 60, the flagship of the new Confidence family, towers above
the outgoing Confidence C4 model."
Best of high end, Belgium
Find a dealer
Find your nearest Dynaudio dealer and pay them a visit today, or sign up for a listening session.
Ask for our Dynaudio specialist
{specialistName}
{description}
Status:

Segment:

Range:

Type:

Sensitivity (dB @ 2.83V/1m):

Lower Cutoff (Hz @ +/- 3 dB):

Upper Cutoff (kHz @ +/- 3 dB):

Lower Cutoff (Hz @ -6 dB):

Upper Cutoff (kHz @ -6 dB):

Box Principle:

Crossover:

Crossover Frequency (Hz):

Crossover Topology:

Tweeter:

Midrange:

Midrange/Woofer:

Woofer:

Weight kg:

Weight lbs:

Width mm:

Height mm:

Depth mm :

Width inches:

Height inches:

Depth inches:

Width mm incl. feet/grill:

Height mm incl. feet/grill:

Depth mm incl. feet/grill:

Width inches incl. feet/grill:

Height inches incl. feet/grill:

Depth inches incl. feet/grill:

Packaged Width mm:

Packaged Height mm:

Packaged Depth mm:

Packaged weight kg:

Speakers per packaged box:

Grille: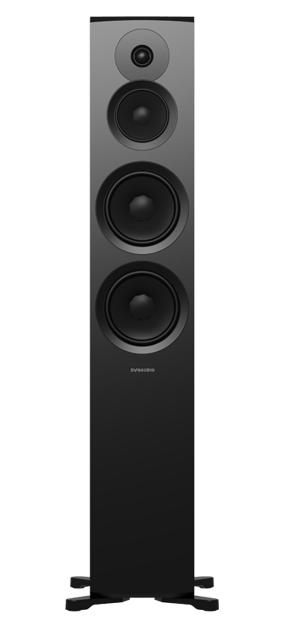 Emit 50

Current

Home

Emit

Floorstand

86

33

25

28

35

Bass reflex rear double flared port

3-way

540/4400 HZ

1st order tweeter / 2nd order midrange / 4th order woofer

28mm Cerotar soft dome with Hexis

15 cm MSP

2x 18 cm MSP

26

57 3/8

205

1140

312

8 1/8

44 7/8

12 2/8

302

1187

376

11 7/8

46 6/8

14 6/8

1300

362

494

32

1

Black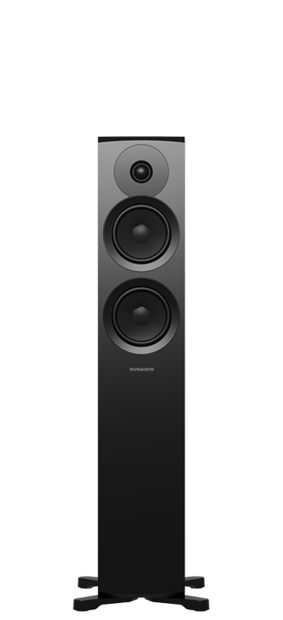 Emit 30

Current

Home

Emit

Floorstand

88

55

25

39

35

Bass reflex rear double flared port

2.5-way

(1000)/3500 Hz

1nd order tweeter / 2nd order woofer

28mm Cerotar soft dome with Hexis

14 cm MSP

14 cm MSP

15,5

34 1/8

170

900

272

6 6/8

35 3/8

10 6/8

268

947

335

10 4/8

37 2/8

13 2/8

1049

318

444

20,4

1

Black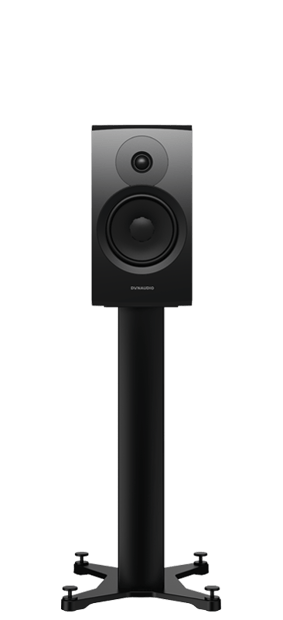 Emit 20

Current

Home

Emit

Bookshelf

86

53

25

42

35

Bass reflex rear double flared port

2-way

3800 Hz

1ST order tweeter / 2nd order woofer

28mm Cerotar soft dome with Hexis

18 cm MSP

10,3

22 6/8

205

370

312

8 1/8

14 5/8

12 2/8

205

370

325

8 1/8

14 5/8

12 6/8

552

445

480

23,5

2

Black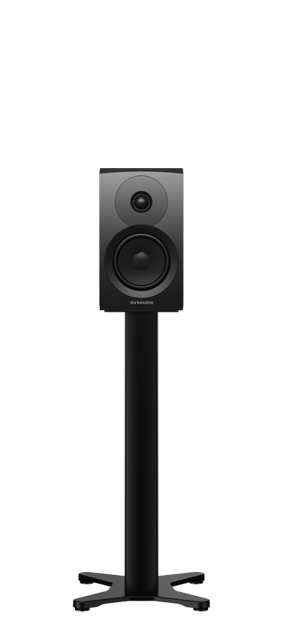 Emit 10

Current

Home

Emit

Bookshelf

86

64

25

52

35

Bass reflex rear double flared port

2-way

3700 Hz

1ST order tweeter / 2nd order woofer

28mm Cerotar soft dome with Hexis

14 cm MSP

6,4

14 1/8

170

290

272

6 6/8

11 3/8

10 6/8

170

290

285

6 6/8

11 3/8

11 2/8

482

405

400

15,4

2

Black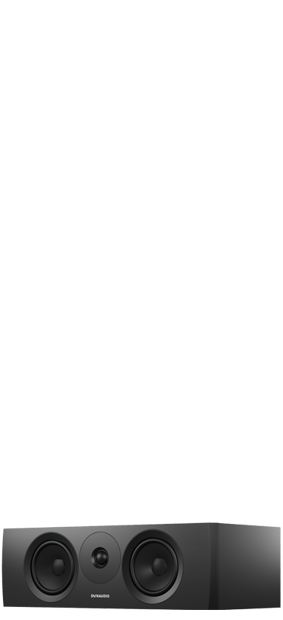 Emit 25C

Current

Home

Emit

Center

87

53

25

46

35

Bass reflex rear double flared port

2.5-way

(1000)/3500 Hz

1nd order tweeter / 2nd order woofer

28mm Cerotar soft dome with Hexis

14 cm MSP

14 cm MSP

11

24 2/8

550

170

272

21 5/8

6 6/8

10 6/8

550

170

285

21 5/8

6 6/8

11 2/8

652

405

280

13,3

1

Black